Hire a freelancer to be your personal apex legends coach improvement is easy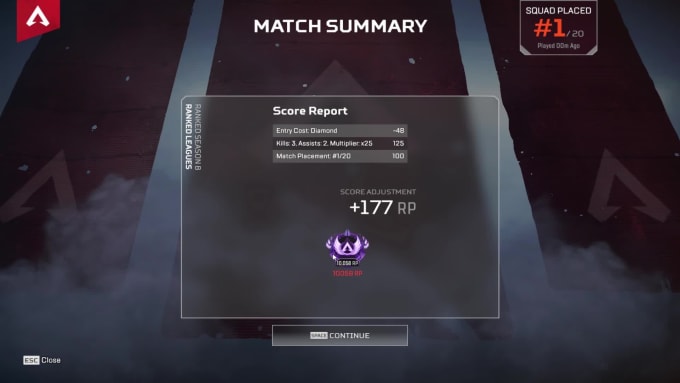 Description
Throughout my experience as a professional and casual player, I have accrued 10,000+ hours in Apex legends. Predator Rank Seasons 3 and 9.
PC setup and posture is very important, as well as being comfortable while playing to win. Having a positive mindset is key to bringing home victories and achieve your wanted rank or personal goals. My coaching will not only make you an all-round better player with insight into a professional's view of the game, but it will help you to achieve any and all goals ranked/pubs related.
If you have any questions please don't hesitate to ask! It helps to prepare a little bit before with which issues you might and to have and an idea of what you'd like to improve on 🙂
Note:
I am willing to create custom orders with clients. I have made many many SOLO runs to master tier in Apex with a 4.0+K/D. Predator Rank Seasons 3 and 9.
Packages For Rank (NOT SELF PLAY):
Rookie To Bronze: $30
Bronze To SIlver: $50
Silver to Gold: $80
Gold to Plat: $100
Plat to Diamond: $140
If a scheduled time is agreed upon by myself and the client and the client doesn't pitch to the session without any communication, a 50% fee from the order will be claimed for time.
Service Rating – 5/5.0 (69)
About the Freelancer
Short Description – Professional Apex player and Gaming Enthusiast

Freelancer Rating – 5/5.0 (69)
Well experienced Apex Legends Professional Player. Looking to help others improve where I can and offer a reliable service to all users on the platform!
Very open and expressive.