Hire a freelancer to bring audience to your twitch channel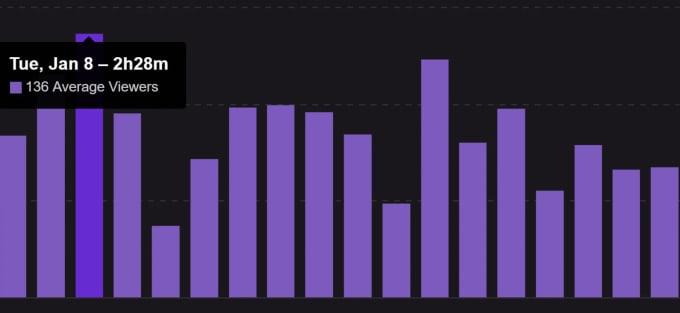 Description
REAL PEOPLE ONLY! NO BOTS!
As an Twitch streamer (and a Youtuber (10K subscribers) I build my audience and my "little" community in almost 2 months!I streamed a GOOD game, choose my time schedule WISELY, interacted with my audience, created a discord where my followers can interact with me any time and became a Twitch affiliate in a very short time, which I am proud! My average views were 100 views, every week that changes and it gets better and better, now on my streams I get almost 200. You have to be dedicated, communicative and nice to all people that come to you. 
When you get this gig, your job is:
·       STREAM!
·      Get your streaming schedule (choose your best time)
·      Interact with my audience when they come to you, gain their trust
·      Find a good game (don't stream games that are top 5)
– As a Beginner, streaming the most popular games is not such a great idea… you could choose from top 10-15, so people could find you easily.
·      Set your Streamlabs for donations, followers, subscribers…
That's all you have to do. Sit and watch your REAL audience grow.
IF YOU ARE UNDERAGE (below 18) MESSAGE ME FIRST! Do NOT order without getting in contact with me.
Service Rating – 5/5.0 (693)
About the Freelancer
Short Description – It Technician, streamer, youtube partner since 2016, photographer

Freelancer Rating – 4.9/5.0 (1,220)
👩‍💻 IT Technician, gamer, Youtube partner since 2016, Twitch affiliated, ex Mixer streamer and photographer.
I finished Economic High school, since I was little I was interested in social medias, I created a Youtube channel and have 10,000 active subscribers. I have great platforms to spread a word about you since I am in "this" world for many years and I know how it works!