Hire a freelancer to build a python web scraper for web scraping data extraction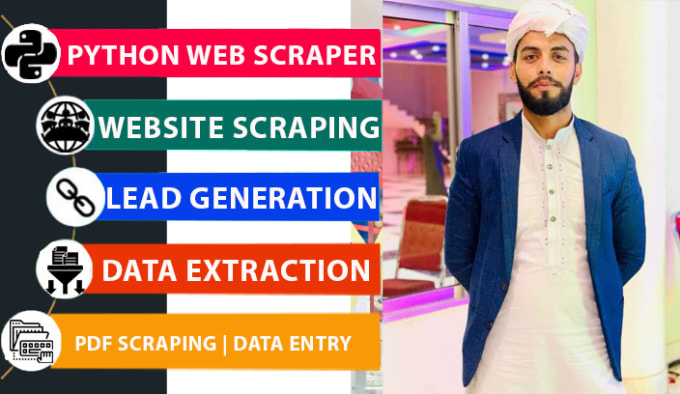 Description
python web scraping , web scraper
Are you looking for a reliable python web scraper for your web scraping data extraction projects? YES! YOU ARE AT RIGHT PLACE! I will build custom web scraper for specific website and will also setup scraper at your pc. My web scraping data extraction program will extract data from website and store into any format like Google Sheet, CSV, XLSX, JSON, TXT etc.
GET FREE SAMPLE BEFORE ORDER!
Services:
Python Web Scraping data extraction
Web Scraping Data Mining
Custom Python Web Scraper Data Scraper
Data Extraction Data Collection
Data Entry / Typing
Data Cleaning
Login Required Web Scraping
Why ME?
24 Hours Available
Fast and 100% Accurate Results
Web Scraping Data Extraction, Web Scraper, Data Scraper, Data Extraction, Data Collection, Data Entry.
Note: Please message me before placing an order!
Thanks!
Service Rating – 5/5.0 (158)
About the Freelancer
Short Description – Python Expert! Web Scraper!

Freelancer Rating – 5/5.0 (158)
I'm a Python developer and having more than 4 years of experience in web scraping, data scraping, data extraction from all public websites. I scrape data by building a specific python web scraper for a specific website.
Skills:
1: Python Web Scraping
2: Data Extraction
3: Data Collection
4: Lead Generation
5: Data Entry
6: Email Scraping