Hire a freelancer to come up with and record cello parts for your music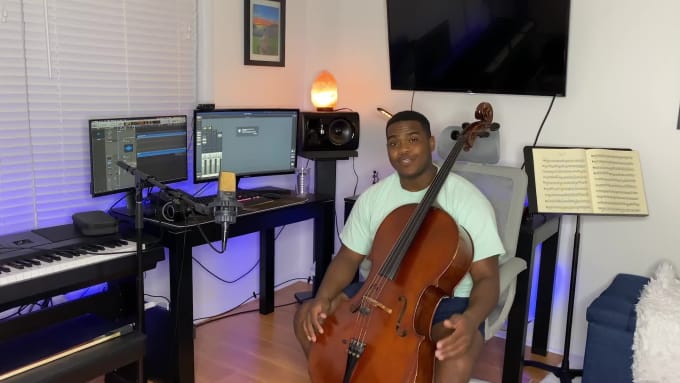 Description
I will come up with the cello parts and record them for this gig. After I get more information from you about just what you're looking for (the more details the better I can help you), I will usually play around with some melodies and record multiple takes until I am satisfied with the sound. If you have any sheet music or charts, those always help, but they are not necessary. I like to pan my different parts when I layer them, so let me know if that is something you would not like me to do.
I am very open to revisions, and can guarantee high quality cello recordings.
MY EQUIPMENT AND SOFTWARE
Microphone:
   – AKG C414 xlii for mono recording
Audio Interface:
   – Apollo Twin
Service Rating – 5/5.0 (31)
About the Freelancer
Short Description – Freelance Cellist

Freelancer Rating – 5/5.0 (31)
I have been playing cello for 12 years. I currently live in Alabama, and have built a home studio in which I record my cello using an AKG c414 XLII microphone plugged into an Apollo twin (music nerd stuff to say that the sound quality is good). I play weekly for church just improvising cello parts and I have also professionally recorded/played in professional groups. I can play genres ranging from classical to country to rock. The better the description of what you're looking for, the better I can do. I use Logic Pro, so I love layering/mixing. I also can read sheet music!