Hire a freelancer to create custom font from your idea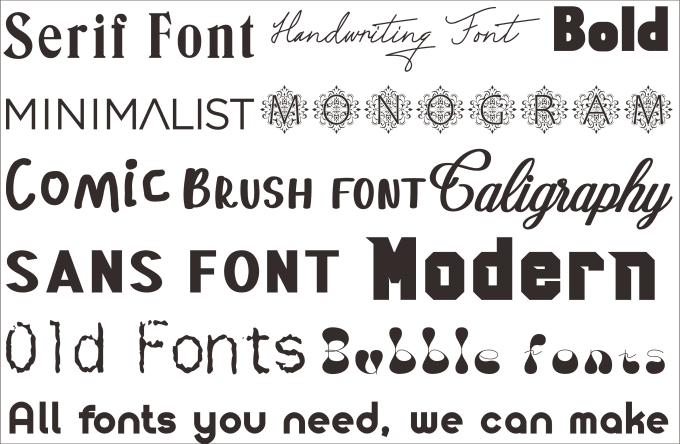 Description
Hi i am Heru Zarcashy
I am a font developer, who has had experience since 2015 creating and developing fonts
We serve several services such as:
Make original fonts (all types of fonts, sans, serifs, handwriting, brushes, comics, calligraphy, graffiti, etc.)
Make special alphabet fonts (hebrew, japanese, arabic, ect. with additional costs)
Add special language characters (Latin Suplement 1, Extended A and Extended B)
Add font Styles (Bold, Italic, Thin, Outline, Shadows, ect)
Editing part or all of the fonts that already exist.
Make a color font (specifically for use in Adobe Illustrator and Photoshop apps)
What you need to provide to get started:
Sample letters of at least one word
Explain what font you want
and or include other fonts as references
What you get:
Font files that can be installed on a Windows PC or Mac (OTF, TTF)
Font files that can be used for the web (woff files if needed)
Vector source files (if needed)
Thank you for visiting our gig, don't hesitate to ask about your font needs.
Greetings, Heru Zarcashy
Service Rating – 4.9/5.0 (458)
About the Freelancer
Short Description – Font Developer Expert

Freelancer Rating – 4.9/5.0 (468)
Hi, introduce me Heru Zarcashy.
I am a graphic designer who specializes in making and editing fonts, I have worked on this work for more than five years.
I am happy to be able to help complete your work, creating new fonts or editing fonts is my daily work, so I can guarantee my work.
don't hesitate to contact me, glad to help
Warm regards, Heru Zarcashy