Hire a freelancer to do amazon storefront design or create amazon brand store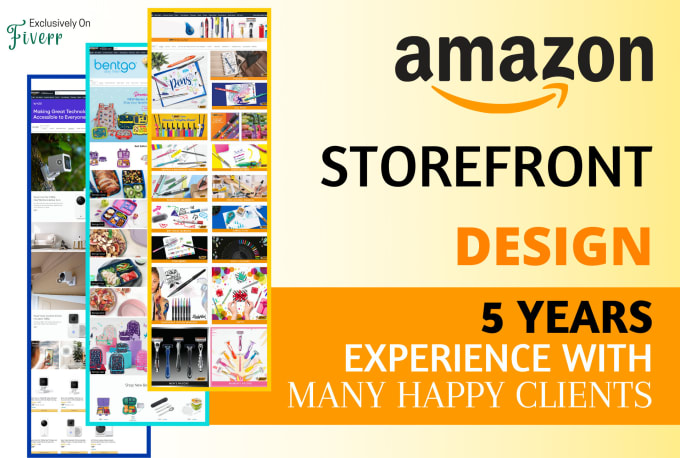 Description
IMPORTANT Note: Please make sure your brand is registered with Amazon before placing the order.
Create and design a dedicated brand destination with a self-service Store. Instead of navigating thousands of online sellers, Stores allow you to create your own curated brand destination.
Why Brand Store is necessary and how it help you to boast your sales?
Storefront increases brand awareness and builds customer trust.
A brand store can help you to organize all your products in one place and gives a seamless shopping experience to your customers.
An attractive storefront provides a chance to promote your brand on social media using the store URL (www.amazon.marketplace/your_brand).
In this Gig, I will Design or ReDesign your Storefront from the scratch.
Your old storefront gets a FRESH look or if you are just starting out I'll design an EXCELLENT storefront or Amazon seller store for you from the ground up.
My Other Services:
Design Listing Images
Design EBC / A+ Content
Design Storefront
What I Do Not Provide:
Write Product Description
Render of Images
Translation
Why choose me…?
On-time delivery
100% accuracy
Unlimited Revision
and Good communication for
Service Rating – 5/5.0 (31)
About the Freelancer
Short Description – "Amazon Store Designer"

Freelancer Rating – 5/5.0 (67)
Hello There, This is Ayesha. I am a professional Amazon Store Designer. I have 4+ years experience running amazon brands. I'm here to help you for your amazon business. Doesn't matter if your are a newbie or a seasoned amazon seller, you always can use an expert hand. Whether you need help your business, or need someone to handle your store, or any other things unrelated to your business: Not to worry, I've being there before and I can help. Please knock me before ordering.