Hire a freelancer to do real estate skip tracing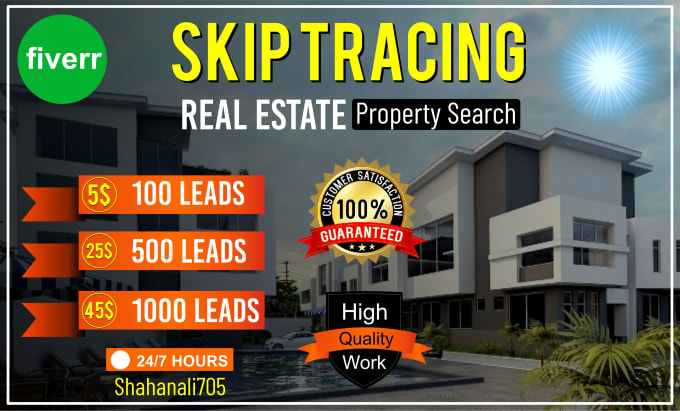 Description
Skip Tracing for Real Estate
Hi,
     Welcome to Skip Tracing gig. Are you looking for accurate skip tracing? That's great you're on perfect platform. I have great experience In skip tracing for real estate business. I am doing professionally skip tracing. I'm offering 90% plus Accuracy. I Will Provide All types of Skip tracing for real estate business.
My Area of Expertise And Leads I can Pull for You:
Skip tracing
Lead Generation
Vacant
Absentee 
Out of state
Divorce
Pre-foreclosure
Tax Delinquent Properties
High Equity
Free & Clear
Flippers
Failed Listing
Liens
Cash Buyers
Pre-Probate Leads
LLC Business Names
Data Entry
Pdf to Excel
Organised Excel Data
Proofreading and Editing
Web research
I will provide:
5 Wireless and 5 Landlines Verified numbers
Email addresses
Updated mailing address
Relative Information
What I need from you for quality skip tracing:
1. Owner name 
2. Mailing Addresses(Owner Address).
3. Mailing City
4. Mailing State
5. Property Address (If Available)
6. LLC Business Names
If you've any questions or need a discount please text me.
Thanks!
Skip Tracing for Real Estate
Service Rating – 5/5.0 (62)
About the Freelancer
Short Description – Expert Skip Tracer

Freelancer Rating – 5/5.0 (67)
I am Shahan ali. I am a reliable and hard-working freelancer. I have sound experience in real estate skip tracing, web research, virtual assistant, data entry, admin support and finding emails.
My expertise are:
Skip tracing
Lead Generation
Vacant
Absentee
Out of state
Divorce
Pre-foreclosure
Tax Delinquent Properties
High Equity
Free & Clear
Flippers
Failed Listing
Liens
Cash Buyers
Pre-Probate Leads
LLC Business Names
Data Entry
Pdf to Excel
Organised Excel Data
Proofreading and Editing
Web research