Hire a freelancer to edit professional photoshop manipulation and photo retouch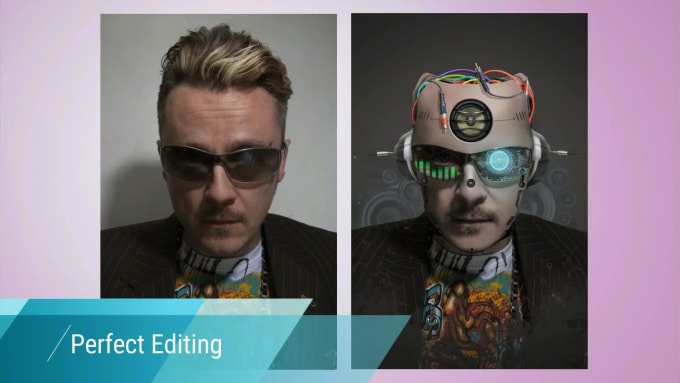 Description
Hey.. hi buyer.
Before anything, please contact me before pressing "Order" button.
This is Mahdi here to help you discover your imagination to reality. (Great people deserve great designers so Keep calm and order the photoshop magician).
Wanna meet your twin, being in a battleground, Shake Gandhi's hand, selfie with celebrities, being a Fortnite character, Remove your ex, how about a (Dreamy, Cinematic, Epic, Fantasy, Romanti..ollalla😂) Scene, annnnd much more..?!! Well glad to let you know that you have met the right partner and are currently reading his silly description😂.
My Skills:
Scene Creation
Retouching, Enhancement
Add, Remove, Replace anything in a photo
Changing Facial Structure
Digital Surgery (Hey! LADIES)
Instagram
Adding Clothes (Glasses, Hat, Shirt, Pants, even Beard and Hair.. Wow)
More and more..
Why Me:
I use Ai (FaceApp, Gigapixel..) Apps in addition to photoshop
Super-easy to work with
24*7 free to respond
8 Years Experience
I'm a Photoshop magician, since I was a cute 12yo boy
I finish it in-time
100% Re-do guarantee if you don't like it, but you will😂
Client Satisfaction is my Priority
And most importantly, I'm Handsome (It's not a joke..)
Service Rating – 5/5.0 (469)
About the Freelancer
Short Description – Discover your IMAGINATION to REALITY

Freelancer Rating – 5/5.0 (493)
What I can remember since I was a child is that I have been creating, so I'm creative
Studies have shown that I'm funny, so I'm funny… I mean.. friendly😁.. and funny😂 you know what I meant I've never wanted to be a God, but that's how people have heard of me when it comes to editing You read that right? so now you know that not dumb people can have such a description, so I'm smart (don't try to scum me, or I'm gonna scum the spam out of you)
Discover whatever you imagine to reality, You deserve it😉.