Hire a freelancer to play your song on radio new york live, promote your music with intro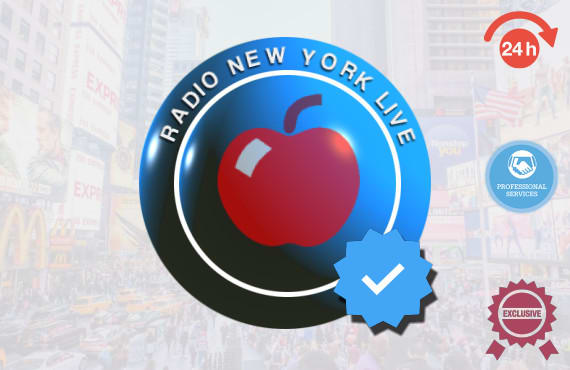 Description
Promote your song on Radio New York Live now!
New! As option (30$) you can add an audio intro of 30 seconds where introduce you, greet the radio listeners and make known your social profiles.
—–
– Radio New York Live (Manhattan)
– radionylive.com
Radio New York Live (online since 2006) is one of the most popular radio stations in the world with over 250K active listeners every 24 hours.
Experience the excitement of listening to your song live on one of the most popular radio stations in the world!
Make your music known also to a part of audience that listens to only radio! At home, car, at work, via cable, on apps and on the famous TuneIn! Smart devices, internet radio, cable TV channels…
—–
What does it take to place your order?
– MP3 (320kbps) or Wav File
– Title, Artist, Album, Year, Genre
– Cover Image (jpg or png)
– Language: English, Spanish
– Maximum track length: 5 minutes
– Music genre: Pop, Pop-Dance, R&B, Rap, Hip-Hop, Dance, EDM, Pop Rock, Rock, Country
– Explicit content/lyrics is NOT accepted. Only clean / radio version.
Are you uncertain about the musical genre of your song? Contact us now!
—–
For more details please visit the FAQs.
—–
Service Rating – 5/5.0 (676)
About the Freelancer
Short Description – RSL promotes your music to radio stations worldwide!

Freelancer Rating – 5/5.0 (1,053)
Hello everyone and welcome to RSL! Our agency has been working in the radio industry for 28 years… We have external collaborations with some of the most popular radio stations in the world, with millions of real listeners.
By agreements with radio stations located in Europe, United States of America, Canada and Australia, we can offer you an exclusive and professional promotion for a very low price.
Choose quality! We are waiting for you!
Maurizio, Sara, Gwenda, Barry, Valerie, Owen and Alexandra.