Hire a freelancer to provide lead generation real estate professionally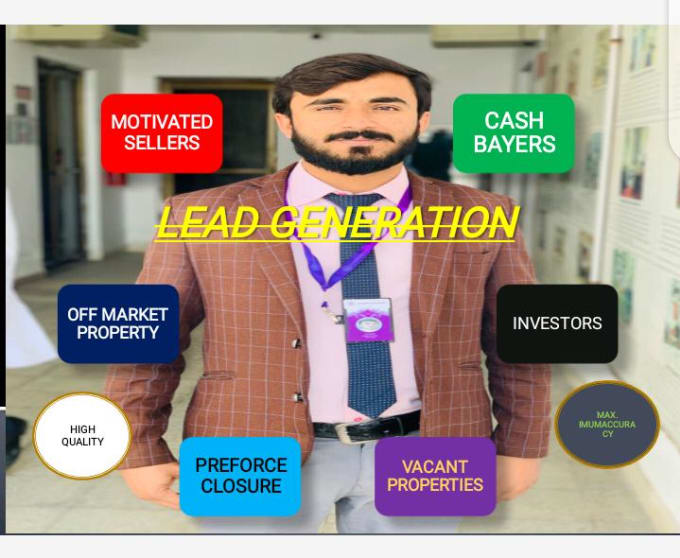 Description
I am a Expert in generating lead generation real estate
Without quality leads, you'll just be throwing your money away instead of closing deals.
That's what I'm here for. 
I have been studying real estate for over a year now – I have mastered lead generation and will deliver you top-notch leads.
All lists are HIGH QUALITY and up to date.
**Message me on how to get 10% off your order**
*US LOCATIONS ONLY*
Commonly requested lists are:
– Off market/On market
-Mobile home
-Duplex, triplex and fourplex 
-Vacant land 
-Fix and flips 
-FSBO 
-Cash buyer
-Absentee Owner
-Motivated Seller
-Vacant
-Divorce
-Out of state
-Flippers
-Free and Clear
-Pre Foreclosures
-Tax Delinquent
-Distressed Property
-Off market properties 
-Single family and multifamily 
-Absence of owner name
-Investors
-Private lender
-Probate 
-Pre-probate
I will supply you with the following on EVERY list:
-Property Address (Address, City, State, Zip, County)
-Mailing Address
-Property Details (Beds, Baths, Sqft)
-Owners Full Name
-Owners contact info (Phone numbers & email)
-Equity and Value of Property
->>> >>> With Free SKIP TRACING
Service Rating – 4.9/5.0 (8)
About the Freelancer
Short Description – LEAD GENERATION EXPERT,SKIP TRACING, DATA ENTRY

Freelancer Rating – 4.9/5.0 (12)
I am a Real Estate SKIP TRACER and LEAD GENERATION EXPERT. I will provide you services in cheap rates.
My services are:
1. Skip Tracing
2. LLc skip tracing.
Also
I can also provide you
1.Absentee leads
2.Vacant leads
3.Preforeclosure leads
4.High equity leads
5.Tax delinquent leads.
6.cash buyers leads.
7 .motivated seller leads
At low price
8: Data entry