Hire a freelancer to provide you digital marketing services with secret strategy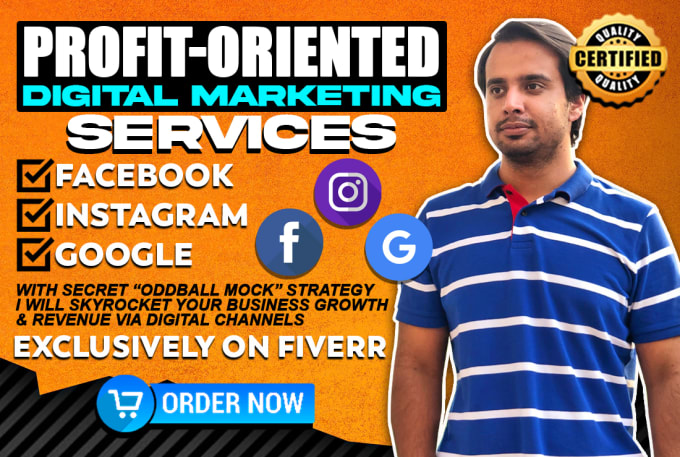 Description
Most of the business wasted a lot of budget on digital marketing, and ended with frustration on no or very little results. The secret to grow business via digital marketing is to follow a proven strategic framework based on smart tactics to achieve desired goals & objectives.
Hi I'm Ehtisham, your next digital marketing expert. I'm here exclusively on Fiverr along with my team of expertise to help you with phenomenal services relating to digital marketing. Based on our previous experience of 5+ years we developed a proven successful strategy which covers all aspects of marketing to get the higher growth & revenue.
Digital Marketing Services Include:
Strategic Business Consultation (product, landing page, social channel analysis)
Marketing Plan & Research (audience research & marketing trend)
Content Creation & Counseling (posts, ads creative, copy-writing)
Development of Right Audience Database (demographics & interests)
Pixel Setup & Optimization
Ads Campaign Setup & Management
Re-targeting (super lookalike audiences)
Evaluation & Troubleshooting
Contact Us for free of cost general consultation.
Service Rating – 5/5.0 (11)
About the Freelancer
Short Description – I Help to Scale Your Business From 0 to 7 Figures

Freelancer Rating – 5/5.0 (11)
Hi I'm Ehtisham, MBA graduate, and digital marketing expert. I am here to help business owners & entrepreneurs to grow their business in growth & profit. I can help you to formulate & execute a profit-oriented digital marketing strategy to sell your products & services online.
With the help of previous experience of 5+ years I developed my own proven secret strategy, which shows a way to successfully achieve desired business goals & objectives.
Here on Fiverr I come with my own professional team to redefine creativity & professionalism.
We will be glad to work with you.