Hire a freelancer to record a quality voiceover, british or american female accent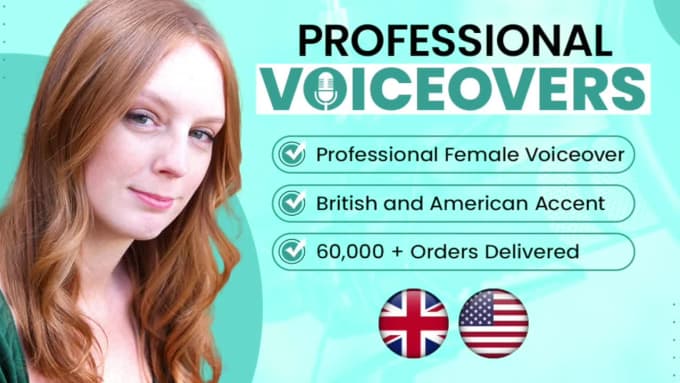 Description
I'll happily record for you a voiceover script in my authentic British or standard American accent. I record in a professional studio and work as a full time voice actor.
I have 20+ years of experience on all project types such as phone systems, explainer videos, commercials, podcasts, corporate training and more. I'm an original Fiverr Ambassador, and have been featured in Business Insider, Forbes, The Street and many other places. I've provided voiceovers for Fortune 500 companies and would love to provide one for you too!
My rate is $5 per 100 words. Enter your word count in the box to the top right to calculate your cost.
Orders are delivered on time or early, guaranteed. For delivery within 24 hours, add Extra Fast (available Monday-Friday).
Double your word count for dialogue, lists, or short phrases. They take twice the time to record.
See extras for Timing Match (per video), Proofreading, Background Music (per file) split Files (one per 5 files).
Check my FAQ for info on delivery time, rates, availability and my revision policies
Service Rating – 5/5.0 (26,981)
About the Freelancer
Short Description – Professional Voice Actress

Freelancer Rating – 5/5.0 (31,603)
I am a Voice Actress with over 20+ years experience in everything from standard narration to phone systems to explainer videos to children's books.
I am originally from the South East of England and have a natural British accent, as well as a Standard American accent from living in the US for 20 years.
Over 60000 projects completed and counting!