Hire a freelancer to record brass in studio quality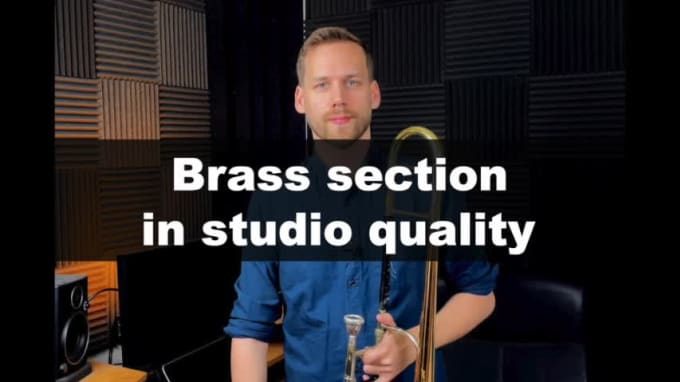 Description
Hello! I've been playing trombone for 24 years, and am an established arranger and musician in Los Angeles. I've recorded on two Grammy-nominated albums, and performed/recorded for artists like Patti LaBelle, Bobby McFerrin and A.R. Rahman. Check out my portfolio to hear full-length examples!
| Salsa | Pop | Funk | Soul | Hip-hop | Rap | RnB | Reggae | Jazz | Classical
Instruments
Trumpet
Flugelhorn
Trombone
Bass trombone
Tuba (see FAQ)
French Horn
Euphonium
Services
Re-creating MIDI stems with real instruments
Coming up with original lines & horn section arranging
Improvised solos
4K videos with professional lighting
I always deliver 100% balanced and cleanly played stems – no clipping or cracked notes! All tracks are recorded with a tuner, to make sure there's no editing required.
Equipment
Acoustically treated room
Slate VMS ML-1 – Large diaphragm condenser microphone
Royer 121 – Ribbon microphone
Apollo Twin X audio interface/preamp
Workflow
I can work from stems or mixdowns
I can read sheet music or play by ear
Check out my gig extras. Need horn section mixing, video, or sheet music? Quick turnaround? Not a problem!
Click the Contact Seller button to get started!
Service Rating – 5/5.0 (38)
About the Freelancer
Short Description – Trombonist, trumpeter and arranger

Freelancer Rating – 5/5.0 (49)
Joakim is an active performer, studio musician, arranger, and educator based in Los Angeles.
As a founding member of the group Dallas Horns, Joakim spends a lot of his time in the studio, arranging and recording music in a variety of genres. He is currently the trombonist and horn arranger for multi-Grammy® award winner A. R. Rahman, performing internationally with his band as well as recording on movie soundtracks. Toftgaard also performs with various groups in Los Angeles as a freelance artist.