Hire a freelancer to record folky pedal steel, banjo, mandolin and dobro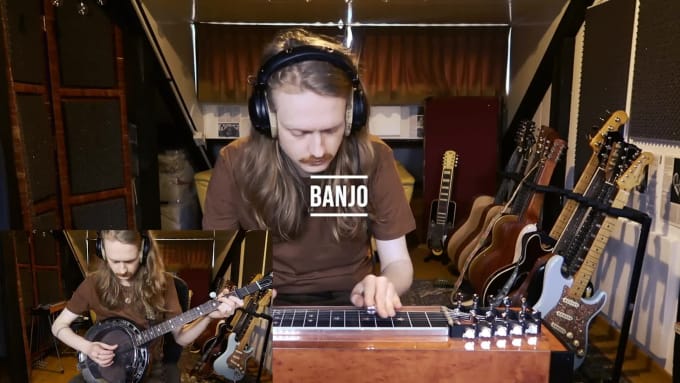 Description
I'm Diederik, a folk/americana oriented multi-instrumentalist and songwriter eager to compose and record! I've been actively working as a musician for over 8 years, played 500+ shows and got my own studio where I create music as Aidan & the Wild and record for others.
In the BASIC order we'll discuss your wishes and I'll record one part. After delivery there's the option to give feedback if there's anything you'd like to see changed.
If you're in a rush I've got the option for QUICK DELIVERY, in which I'll deliver the part within two days. Do note that this option includes NO REVISIONS.
I also provide the option for a wider ARRANGEMENT of parts, where I will help you think on the "producer" level about creating the sound you're looking for. (+50,- for each part after the first)
As a songwriter myself I know how scary it is to ask anyone to be involved in your music. Therefore I think it's really important to properly discuss your wishes before recording anything. I'll always put the spirit of the song in the first place, and I'm looking forward to work on yours!
In addition I play acoustic and electric guitar as well. See my other gigs!
Service Rating – 5/5.0 (58)
About the Freelancer
Short Description – Instrumentalist

Freelancer Rating – 5/5.0 (70)
I'm a multi-instrumentalist, songwriter and producer with a focus on folk and americana music from Eindhoven, the Netherlands. I've been playing the guitar for 18 years and branched out to a wide range of related instruments. I've gotten to the point where I can do this full-time, both on stage and in the studio!
I love creating dreamy atmospheres and strongly believe in the "less is more" additude when it comes to making instrumental arrangements.
Fun carreer highlight: Opening up the show of Hiss Golden Messenger in Melkweg, Amsterdam