Hire a freelancer to teach you how to self publish a book that sells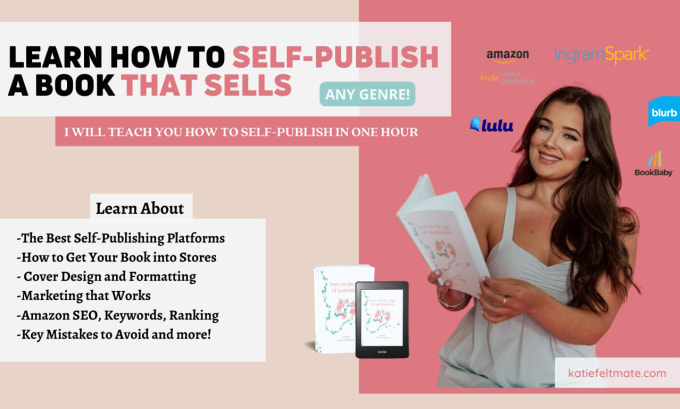 Description
Take the confusion and mystery out of the self-publishing process and learn from someone who has done it successfully and gotten their book into retail stores! Allow me to save you months or years of research into self-publishing and teach you everything you need to know in one hour.
If you are interested in self-publishing a book but you don't know where to start, how to market it, what platform to choose or how to go about getting it into stores I can help.
I will walk you through the step-by-step process from writing the book to hitting publish and give you advice and an understanding of the pros and cons of each platform depending on your specific goals for your book. You can ask me as many questions as you want, and I will ensure you are set up for success after leaving our session.
Topics we will cover:
-The best self-publishing platforms and how to choose one that's right for you
-ISBNs and what to watch out for
-Formatting your manuscript
-Cover Design
-Copyright and Ownership
-Marketing that Works
-What it means to publish wide
-My strategy for getting your book into stores
-Amazon Keywords and Ranking
-Key Mistakes to Avoid
Service Rating – 4.6/5.0 (3)
About the Freelancer
Short Description – Self Publishing, Marketing, Poetry

Freelancer Rating – 4.6/5.0 (3)
Public relations and communications professional by trade, poet and creative writer by heart.
Katie is a Canadian poet, author and gender-based violence advocate based in Halifax, Nova Scotia.