Hire a freelancer to add subtitles and captions to english, german, japanese, spanish and french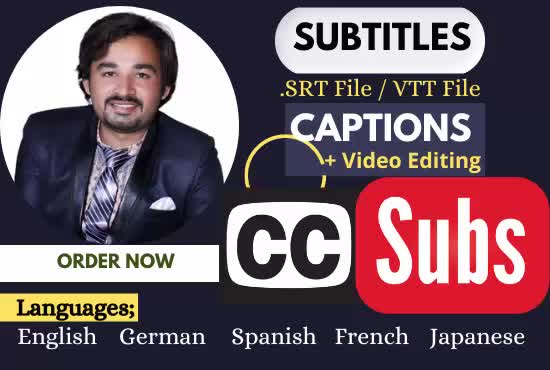 Description
100% SATISFACTION OR YOUR MONEY BACK!
(Contact me before ordering to discuss your project)
I will add subtitles or captions to your videos in very perfect and professional
way.
I will also transcribe and translate your videos in any language that you would want.
I am an expert in following types of editing:
·    YOUTUBE videos subtitles
·    SRT Files
·   Open and Closed Captions
·    Video Editing and Post Production
·   Transcribe your videos
·    Translation to your videos
·    Captions Generating
·    Burned-in or embedded subtitles or captions
·    Intro and Outro Titles
·    Subtitles for documentaries
·    Social Media Captions
·    Subtitling on interviews
·    Custom Style fonts and graphics for subtitles
·    Professional videos editing
·    And much much more 
Languages:
English, Spanish,
German, Korean, French, Italian and many more
Contact me before ordering
 Note:
Provide me with the your footage and your script or .SRT file (if you have).
If you want to translate or transcribe your footage in other language then English then either contact me before ordering or briefly describe all the instructions on the order page to avoid any inconvenience
Thank you!
Kashan
Service Rating – 5/5.0 (18)
About the Freelancer
Short Description – Close Captioner and Subtitler

Freelancer Rating – 4.9/5.0 (85)
I'm Kashan Zafar Hashmi and I'm professional in adding SUBTITLES & CLOSED CAPTIONS. I'm a Translator, video editor, and subtitle creator & Transcriber with 3+ years of experience. I will effectively communicate with you and refine your order above your expectation within 24 hours. Get ready to receive outstanding work!
I'm also a professional graphic designer. I am a good content writer and also write content on different websites or blogs in bulk.
I am looking for an opportunity to utilize my skills in a challenging task.
Looking forward to working with you.
Thanks!