Hire a freelancer to be python java c database web scraping bot script programming project developer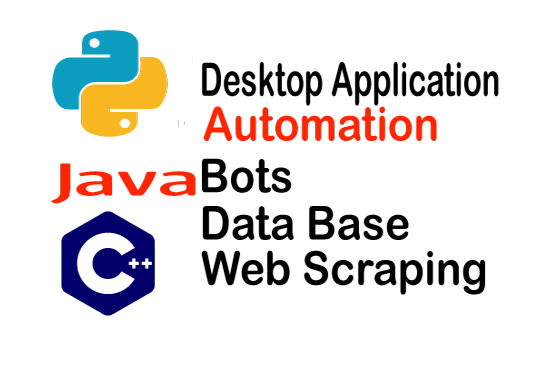 Description
Are you looking for a Software Developer? If yes, Contact me to discuss your project requirements/price/timeline in detail.
What I can do?
Bots
Webscraping from differen websites and save data into excel
Purchasing bot for different online stores
Notifying bot when a Product become available in stock
web scraping
Browser Automation
Android IOS Iphone apps
Python Programming Projects
Java Programming Tasks
Web developer wordpress
Javascript
React Native
SQL database
Mysql Tables Queries
Operating System
Client Server Programming Socket
Multithreading
C++ programing projects
Algorithum Implementation
JavaFX / SWING GUI applications
Develop console applications
Debugging and Bug fixing
Fundamental of Programming PF
Introduction to Programming
OOP Object Oriented
Object-Oriented Concepts (Inheritance, Polymorphism, Abstraction, Interfaces, Class Diagrams, Design Patterns)
Data Structures Concepts 
Linked List, queues, Stack, Trees Data Structures, Binary Tree, B Tree, Graphs, Sorting
Algorithms and Data Structures
Operating System
Pipes, Fork, Threads, Semaphores
Database or Django
Theory of automate
Turing machine
Matlab Simulation
Feel free to CONTACT US for any queries, thanks.
Service Rating – 5/5.0 (172)
About the Freelancer
| | |
| --- | --- |
| | Freelancer Rating – 5/5.0 (183) |
I am a programmer by profession and I teach at GC University, Faislabad. I am a great learner and teacher. I love to work with students and fellow mates. I am here to solve your problems, so let me know about them.