Hire a freelancer to be your best skip tracer for real estate skip tracing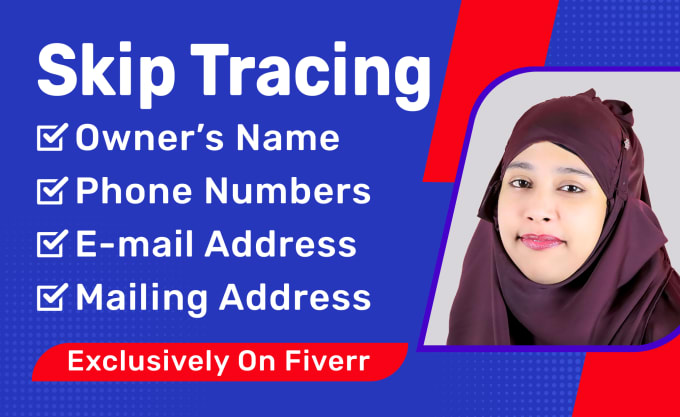 Description
Welcome to my gig page!
I am here to help all real estate investors, agents, and wholesalers with my best skip tracing services.
I have been working as a skip tracer for a US based real estate company for the last 5 years. I'll get you property owners phone, email and mailing address in no time at all.
I use various platforms and tools, e.g., TLO, LexisNexis, Intelius, and BeenVerified to find any property owner in the United States and their current contact information.
By hiring me, you'll have someone take care of your tedious skip tracing needs, saving you up to 70% of your current skip tracing costs.
Here's what I'll need from you:
Property address, city, state, and zip code
Property owner's name (if available)
Here's what I'll deliver you in Excel/Google spreadsheets:
All possible phone numbers (Mobile and Landline mixed).
All possible email addresses (tested and verified)
If you need high-quality work at a fast turnaround, do not hesitate to contact me. I would be glad to talk about business with you!
Service Rating – 4.9/5.0 (233)
About the Freelancer
Short Description – Expert In Real Estate Skip Tracing and B2B Lead Generation

Freelancer Rating – 5/5.0 (351)
Hi, My name is Yeasmin.
I have five years of in-depth experience in the following areas:-
✔️ Skip tracing
✔️ Real Estate Research
✔️ Property Analysis
✔️ B2B Lead Generation
✔️ Web research
✔️ Virtual Assistant
✔️ Data Entry, and
✔️ Administrative support services.
Feel free to message me with any questions, and I'll get back to you as soon as possible. Thank you for your time!
Let's talk business!