Hire a freelancer to be your professional valorant coach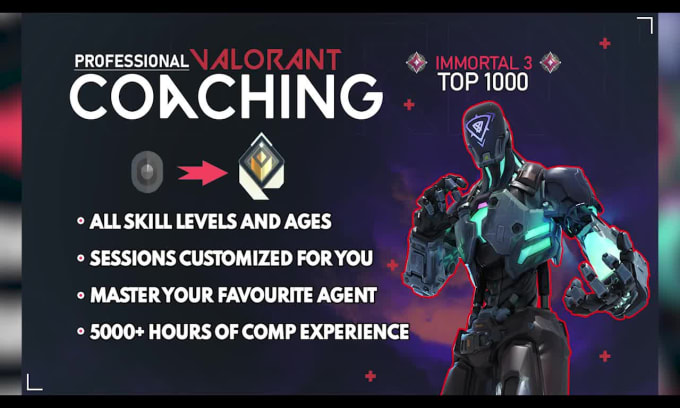 Description
ALL Sessions are live 1 on 1's in Discord
Booking gives you access to my COACHING SERVER (see Gallery for info)
Aim & Mechanics Class: 1hr
Live Game
Movement / Crosshair Placement / Aim / Drills
Agent Mechanics
Settings Overview
Advanced Class: 1hr 30m
Adv. Role in my server (access to AMA's – Ask Mace Anything channel)
I go through a VOD with you in great detail on 1 agent and tell you how to improve
Extensive tips on Agent-Specific Mechanics & Ability Usage
Gamesense / Rotations / Getting Impact Consistently / Positioning / Playing Clutches
Custom Games / Examples
Settings Overview
Master Class: 3 x 1hr 30m Sessions
All of other packages included
Premium Role in my server (access to 30min sessions once every 2 weeks / AMA's & playing games with me!)
Up to 3 Agents
Session 1: 
Agent Pool & Focus
Mechanics / Understanding your Role / Strategies
Live Game
Session 2:
VOD Review on Main Agent 
Advanced Economic Strategies / How to Get Impact Consistently / Playing Clutches / Rotations
Scenario Training 
Session 3:
Personalised Warmup Routine
Live/VOD to see Progression & Further Improvements needed
Covering ALL maps on Main Agent
Final Questions & Pointers
DM me for PORTFOLIO
Service Rating – 5/5.0 (87)
About the Freelancer
Short Description – Valorant Esports and Ranked Coaching

Freelancer Rating – 5/5.0 (94)
I'm Mace – an Immortal 3 Valorant Player who has played Professionally and Coached for teams such as CIRCE & Full Flashed. I have over 5000 hours in Valorant (Playing & Coaching).
I'm a hardworking and passionate individual who lives and breathes Valorant and it's inricate gameplay.
If you're interested in my coaching and have any questions don't be afraid to DM me!