Hire a freelancer to coach you in valorant that will help you improve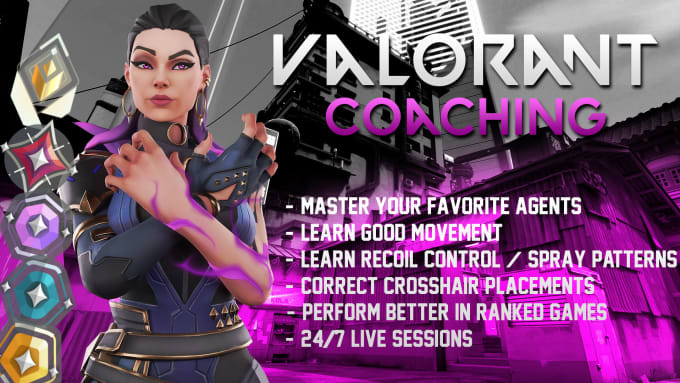 Description
Hi there ,
My name is Saad Aka Harry
I'm a platinum 1 Valorant player whose goal is to coach and help players get better at the game.
its okay if you are bad at the game or stuck in a lower rank like iron, bronze, silver etc.
My tips will help you get better at the game in ranked matches and get good amount of kills in game.
The coaching session will usually consist of me sharing my screen and talking while being in the range/custom mode.i will also try to play custom with you according to the amount of time and will point out your mistakes and correct them.I will also give you cool tips and pointers along the way.
I will help you master your favorite agent in the game and will tell you how to use different agents in different maps.
I will go through many things depending on the amount of time we have. They consist of :
– Aim Train/Warmup Routine
– Game Mechanics and Game Sense – Spray control, counter strafing, movement, positioning, peeking, accuracy, crosshair placement, etc.
Time is not an issue and I always try and make sure that you understand everything before we end the session! 🙂
If you have any questions, don't hesitate to message me! I am very easy to talk to.
Service Rating – 5/5.0 (14)
About the Freelancer
Short Description – Ads ,Thumbnail Designer , Gaming Coach

Freelancer Rating – 4.9/5.0 (92)
Hello, my name is Saad. I'm a Graphic Designer. I create designs which are attractive and appealing to the audience. I have Over 1 year of experience in Graphic Designing. I have Worked for a lot of youtubers. I will create a thumbnail that suits your needs and attracts your audience. I will be happy to help you to find a unique style that interacts your audience. Feel free to ask any questions.