Hire a freelancer to code a custom twitch chat command script or custom streamelements widget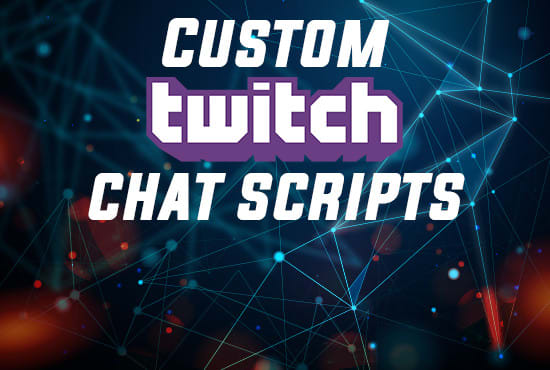 Description
Want to make your Twitch chat more interactive and fun?
Whether you use SLOBS, OBS, Cloudbot, Streamlabs Chatbot, SteamElements chatbot, or any other bot or streaming software, I can make you a custom script or API!
Any idea you have, we can see if it's possible with your current setup.
Things that I have done before
Interface with the LIFX/Philips Hue API to control light colors on chat commands or channel points
A rave channel point that makes a source appear in SLOBS and also makes the LIFX lights mentioned above flash multi-color
Interface with the Spotify API to control Spotify or get the current current song
Pull stats from games (such as Rocket League ranking)
A slideshow to display on stream with a chat command for viewers to get the info about the image currently displaying
When it comes to using web based bots such as Nightbot, Cloudbot, StreamElements, those have limited functionality, however I do have web hosting to create an API for those bots to interact with.
With the Streamlabs Chatbot (desktop application) the possibilities are pretty much endless as I can code custom Python scripts that run on your machine.
Service Rating – 5/5.0 (12)
About the Freelancer
Short Description – Just a twitch streamer that loves pizza Twitch: PizzaMark

Freelancer Rating – 5/5.0 (12)
Hey There! I'm Mark, a Twitch streamer with a bachelors degree in Information Systems. Through streaming, I have created many amazing interactive chat scripts where viewers can do things like control the color and effects of my LIFX lights in my room, a !rave command that makes the Crab Rave video appear on my stream and makes my lights go wild, a Spotify now playing command completely web based, and much more!