Hire a freelancer to code java, python,cpp, csharp, c programming and database projects, and tasks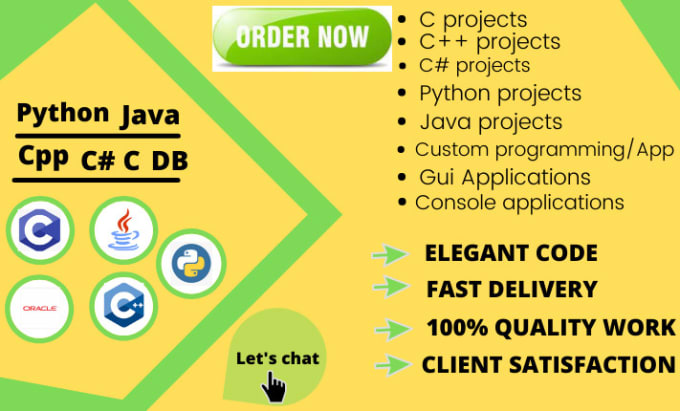 Description
Please contact me before placing any order
if you are looking for a programmer who is an expert in all top programming languages,
I am glad you have come to the right point, I can do programming in C, CPP java python as well.
plus I also have experience in GUI building using java swing or JavaFX
I have experience of more than 5 years of programming and I am pretty much sure that I am up to your project as well as I would have done some similar problems already ahead
My services include:
 C
C++/CPP
C#
 Java
 Python 
Java swing
 JavaFX
Database
My services
 GUI based games as well as projects
 Console-Based Projects and tasks
 Object Orient Programming
 Data Structure and Algorithms
 Algorithm or Multithreading Database MySQL
Why me
Well commented and properly indented code,
100% Client satisfaction,
Delivery before deadlines,
Reasonable lower prices
Regards:
Kamee coder
Service Rating – 5/5.0 (29)
About the Freelancer
Short Description – Clean Code For Complex Problems

Freelancer Rating – 5/5.0 (35)
Hello, This is Rafique Ahmed a computer science professional having experience of 5 years in different programming languages namely Java, c++, python, c#,c, and database design. In my whole career, I have been working with national and international clients and got them happy with my quality work. Over the time I have my company which includes 7 peoples of different expertises. I can also provide services of SEO, web developement. feel free to text me I am available 24/7.