Hire a freelancer to convert your trw county tax delinquent file to excel or CSV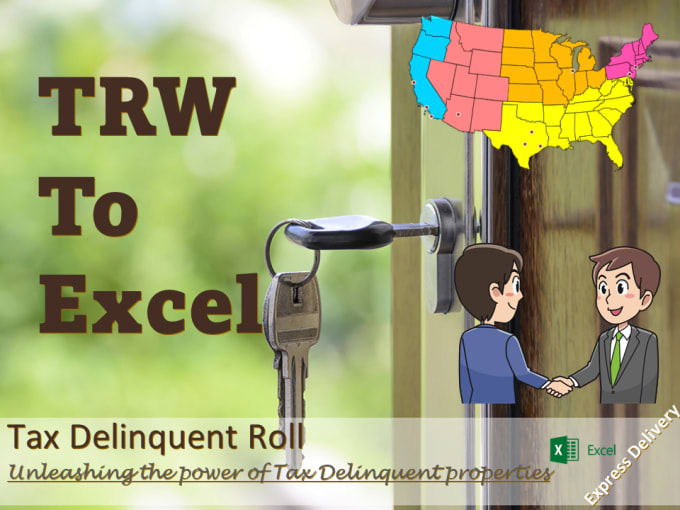 Description
I will convert your TAX Delinquent File (TRW) file of your county, to readable format in Excel as per Skip trace format. This includes Owner Details who are behind their TAXES for more than 2yrs. The excel will include the following fields
The fields available are 
FIRSTNAME (Splitted)
LASTNAME (Splitted)
MAILING ADDRESS
STATE
CITY
STATE
ZIP
TYPE (SFR/MFR…)
ROPERTY ADDRESS 
AMT_DUE
PROPERTY ADDRESS comes without state/zip/ city, but same can be included
If you need additional fields or criteria of extraction, feel free to contact me
I also process Tax Delinquent in different format such as ASCII, ACCDB EBCDIC, PDF, COLDAT etc and do Website Scrapping for many counties like Orange, Dallas, Bexar,Fort Bend, Houston, etc
You may see a sample file generated, by clicking on the gig gallery. A clean list will enable you to skip trace the parcels and close your deals. 
Feel free to contact me if you also need to do web scrap
IMPORTANT NOTE:
TRW Comes with millions of parcels but the output will varies from 5K – 8K as it is important to remove redundant ones, and parcels like Cemetery, Parking lots, Schools, 
BONUS
We split owner name into FirstName and LastName, Free of Charge
Service Rating – 4.9/5.0 (341)
About the Freelancer
Short Description – Specialized in Real Estate, Data Processing and Automation

Freelancer Rating – 4.9/5.0 (446)
Hello, I am Vishal. I have a Master Degree in Computer Science & Engineering, with valuable skills and experience in Data Analysis & Processing, Automation, Reporting and many other related areas.
I have experience in Real Estate and have been working on scrubbing and scrapping Tax Delinquent Files (TRW), Code Violations and Probates etc
I am also a blogger and have published many articles on IT and Real Estate.
I work with many clients and have developed a professional bond of trust and honesty with them through my work.
Feel free to visit my +350 reviews, work and videos on Fiverr.