Hire a freelancer to create a custom discord bot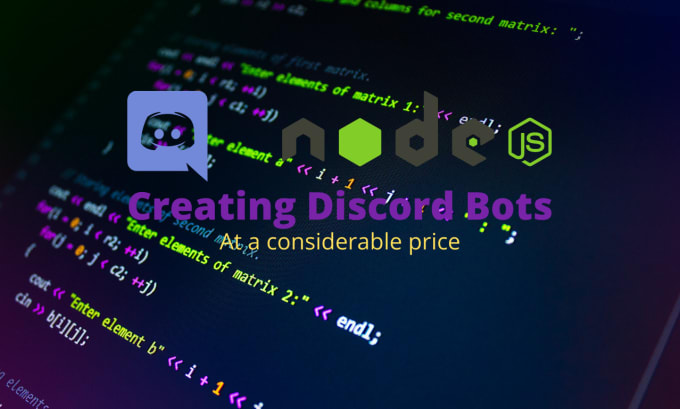 Description
Hello there! 👋
Introduction
I have been developing Discord bots for the past 3 years and I have worked with many kinds of technologies at an intermediate level. I use JavaScript as the core language. I am experienced in coding many kinds of Discord bots using Node.js v18 (JavaScript runtime) with Discord.js v13 library. All the bots listed before are the bots I've worked with in the past.
Examples:
Fun (memes), Moderation (auto-moderation), Economy (leaderboards, banks, custom)
Utility (API, setup, database), Verification (captcha, button), Information (news feed)
RSS, YouTube, and Twitch feeds (new upload alerts)
Game (fractions, image manipulation), Giveaway (requirements, interactive setup), Music (multiple sources, player in a specific channel, buttons)
Manga (search), Anime (search), Chat (Ai chat bot)
And much more.
I can also create custom bots on request 👌
I use the latest version of Discord API (v9) and Discord.js (v13) which lets you use new features of Discord such as slash commands, buttons, select menus, and many more.
I am also familiar with API integration, web scraping, and other abilities.
Ready for the big jump? Order now :)!
Service Rating – 5/5.0 (20)
About the Freelancer
Short Description – JavaScript enthusiast

Freelancer Rating – 5/5.0 (21)
Hi there! I enjoy writing JavaScript. I have been doing this for around 3 years and I have no plans to stop doing so. I know other languages as well such as Python, HTML, CSS, etc. But I don't enjoy them as much as I enjoy writing JavaScript. I am not the greatest, but I try my best. I look forward to working with you :)!