Hire a freelancer to create a guitar pro file from any tab or sheet music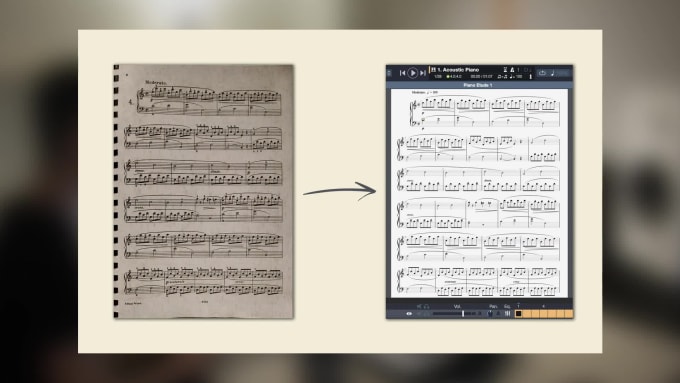 Description
Hi there! My name is Chris. I've been playing guitar for 10 years. I very often use Guitar Pro for transcribing my own ideas, learning songs and digitizing physical tab or sheet music sources.
I can make you a custom Guitar Pro or MusceScore file from:
A picture/scan of a physical piece of paper with tab or sheet music
An ASCII tab (the type of tab format, found on websites like "Ultimate Guitar")
A play-along sheet music or tab video
A play-along sheet music or tab websites, where the notation can't be downloaded or customized
Note: This gig doesn't necessarily require you to use Guitar Pro! I also work with MuseScore.
I can deliver the file formats:
Guitar Pro (.gp, .gpx, gp5)
PDF
MusicXML (supported on Finale, Dorico, Sibelius, MuseScore, as well as DAWs like Cubase, Logic Pro etc.)
MIDI or custom Audio (Offered separately, depending on project size. If you're interested, contact me.)
Please contact me first before ordering, so that everything is clear and sorted out beforehand. 🙂
If you want something extra on top, I invite you to check out the Gig Extras below, or message me your specific request to get a custom quote.
I can't wait to work with you! 🙂
Service Rating – 5/5.0 (5)
About the Freelancer
Short Description – Hristiyan "Xpuc" Bistrishki

Freelancer Rating – 5/5.0 (5)
My name is Hristiyan, or Chris for short. I'm an audiovisual creator and musician under the artist name "Xpuc" (stylized from "Hris" in cyrillic). I have been playing guitar for 10 years and along the way I have developed skills in music production, audio engineering, beatmaking and sound for picture. Currently I am studying "Sound BA" at the renowned Filmuniversity Babelsberg.
My mission is to incorporate and blend sonic, visual and artistic elements in a meaningful way into the final product or creation. I can't wait to work with you and help you acheive this for your next project!