Hire a freelancer to create a killer nft website,mintengine,market place,dapps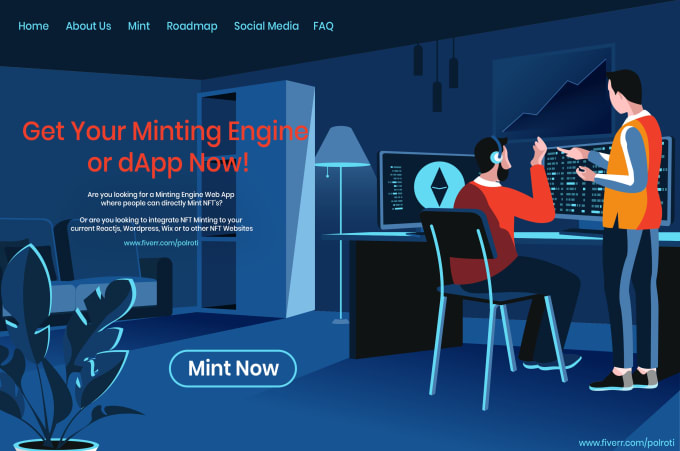 Description
Free Modern NFT Web UI Design included! Contact me before ordering!
Are you looking for a a NFT Mint Engine website where people can directly Mint NFT's from your ?
Or do you want to integrate NFT Minting to your existing Website? I can handle any dAPP!
My deliverables :
NFT Landing Page Designs
Gas Optimized NFT Smart Contracts With Any Feature
ERC721 ERC1155, Solana, BSC
Mobile Mint
Random NFT Minting and Reveals
NFT added to wallet
List on NFT Marketplaces Opensea,Solsea etc.
Any Wallet Integration Metamask etc.
IPFS storage
Create Metadata .jsons
NFT Whitelist, Free Mints etc.
Royalty, Profit sharing etc.
Presale/Public/Private Mint
Whitepaper
Roadmap
Evolve, Breed, Mutation
NFT Artwork Variations
Frontend Development with Buy, Sell, Bid etc.
Minting website for NFT's on any network such as ETH, Polygon, Solana, BSC, Fantom etc..
Add Mint Engine to React, Webflow, WordPress, Wix, or to any other site
I'm a Web Development and Blockchain Expert who will develop a Minting Engine so that people can Mint out NFT's directly from your website.
Whether its a NFT marketplace or a NFT website or a Minting engine, I can design any type of a dAPP according to your requirements.
Service Rating – 5/5.0 (51)
About the Freelancer
Short Description – Giving Your Project The Boost That It Deserves!

Freelancer Rating – 5/5.0 (89)
After working as a Senior Developer and Designer for a leading agency in Sri Lanka for over 8 years, I decided to take a step further and start my own business.
Polroti is my new company and I focus on Blockchain & Software Development along with content creation for businesses around the world.
I mostly work EST. I'm always here if you need any clarification regarding your project.