Hire a freelancer to create genogram or family tree or pedigree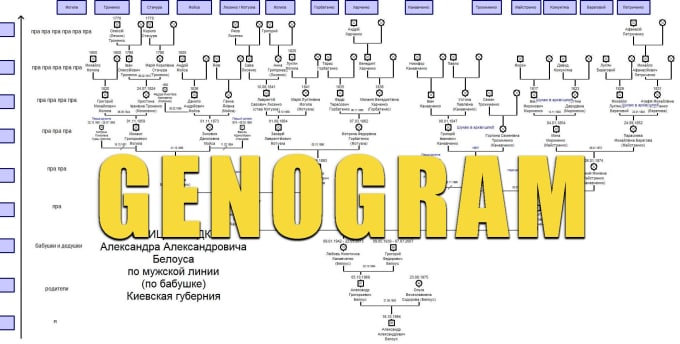 Description
Hi!
I have experience in building huge different genograms, family trees, and pedigrees.
A genogram is a graphic representation of basic information about a family, simple and beautiful design.
I will draw a genogram, emotional genogram, family tree, or pedigree of your family.
A genogram is perfect for a family book, for printing, as a gift for a family.
What can I show in Genogram:
photo of persons
family logo
other photos
cloud with title, color fill or frame
highlighting persons with color, frame
square box for men and round for women
person's age in boxes or color fill
box without age and fill
lines, dotted lines, colored lines, arrows
children
native children
adopted children
twins
children from different parents
child of unknown gender
family dates
birth
death
marriage
baptism
divorce
second marriage
adoption
You will get the genogram in pdf and jpeg, high resolution
I can work with colors and black and white. It is not sent in physical-only on internet.
I need from you:
list of persons, first and last names, dates, gender,
if you have your own sketch, diagram, or freehand drawing (optional).
Service Rating – 5/5.0 (51)
About the Freelancer
Short Description – Finding family stories and making tree

Freelancer Rating – 5/5.0 (112)
Hi, I'm Alex.
I love finding family members and fascinating facts through doing genealogy.
I would love to help you explore your family tree, find your ancestors and relatives in Ukraine!
I love genealogy. I made many trees for many families. I make family trees, timeline, recover old photos, photos colorization.
I live in Kharkiv, Ukraine and have easy access to KHARKIV REGION STATE ARCHIVE for local research.