Hire a freelancer to create rain videos for you, original rain videos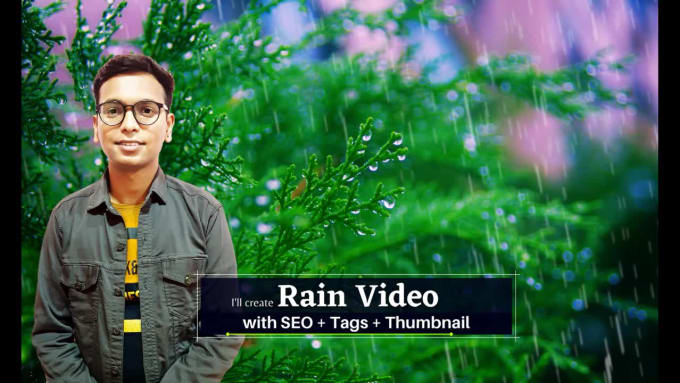 Description
***DON'T PLACE THE ORDER WITHOUT DISCUSSING IT WITH ME***
Hello! I'm Sudhanshu,
I am a Professional Video Editor.
I will provide you best Original Rain video as well as a Fabulous Banner and Eye-catchy Thumbnail. Videos rank very fast on YouTube Using SEO. 
☆☆☆ All my content will be 100% Copyright Free.
All different types of Rain sounds are available Like :
Rain with Thunder
Relaxing rain
Gentle rain
Sleepy rain
Rain on Tin-roof
Black screen raining
Heavy raining
Luxury apartment raining
Raining on leaves
Raining on Window
Raining with Birds singing & many many more.
These Sounds are also Available:
Forest calm Sound
Ocean wave Sound
Waterfall Sound
Birds singing Sound
River sound & many more…
★ 100% Satisfaction Guaranteed ★
★ On-time delivery ★
★ High-Quality Work ★
★ Exclusive Content For Every Customer★
I can make UPTO 8 Hour long videos and also make short videos, such as 5, 15, or 30 minutes long. (On-Demand)
Don't hesitate to contact me if you have any questions, I would be happy to answer
Thank you
Service Rating – 5/5.0 (48)
About the Freelancer
Short Description – YOU THINK WE CREATE

Freelancer Rating – 5/5.0 (77)
Hi, I'm Sudhanshu! Enthusiastic Video Editor with years of experience in the world of video creating. Worked with many satisfied clients worldwide. Customer relationship is my 1st priority. I guarantee that you will be satisfied with the end result.