Hire a freelancer to do all types of accounting and bookkeeping for UK company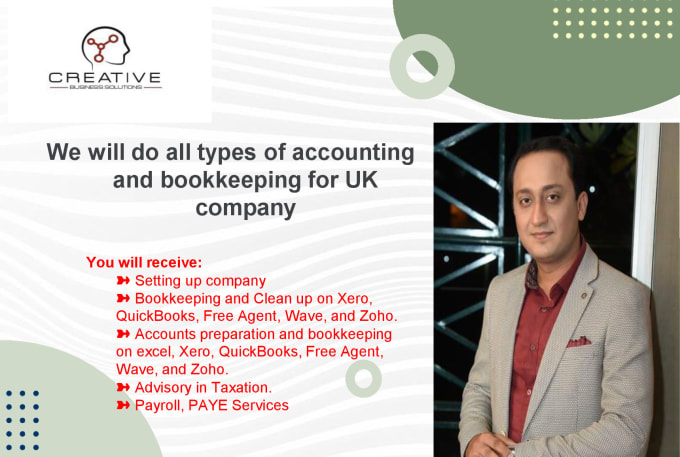 Description
UK Year End Accounts I HMRC I Company House I ACCOUNTING l BOOKKEEPING
Hello,
If you are looking for accounting and bookkeeping services, you're in the right place.
About myself
I am Chartered Accountant (ICAP PK) and ACCA (UK) member and Owner of Creative Business Solutions (Business Agency).
We are Working with over 150 clients based in UK.
Here is solution of your problem.
Welcome to a Level 2 seller with 100+ satisfied clients, I have 10 years of professional experience in Accounting, Bookkeeping and Financial statements preparation specially for UK based companies.
We are very expert in:
Prepare UK Ltd company annual accounts(Dormant or revenue)
Prepare UK Ltd company corporation tax return (CT600). 
File UK company year end accounts with companies house
File corporation tax return (CT600)  with HMRC
Preparing VAT returns
Self assessment tax returns
Dealing with HMRC enquiries
Xero Software
Why should we work together?
We can provide you complete accountancy support as personal accountant:
Please, contact me before ordering. We guarantee the best job!
UK Year End Accounts I HMRC I Company House I ACCOUNTING l BOOKKEEPING
Service Rating – 5/5.0 (13)
About the Freelancer
Short Description – Professional Accountant ACCA UK

Freelancer Rating – 4.9/5.0 (117)
I am a Chartered Certified Accountant (UK equivalent of CPA) and financial analyst with multiple years of experience in logistics industry, capital markets, pharmaceutical sector, and I.T. industry.
You deserve the best. An accountant and bookkeeper who is diligent, fast, efficient, trustworthy and cares about your business. You deserve someone you can rely upon 24/7. Well, I'm here for you!