Hire a freelancer to do an amazon patent search and trademark check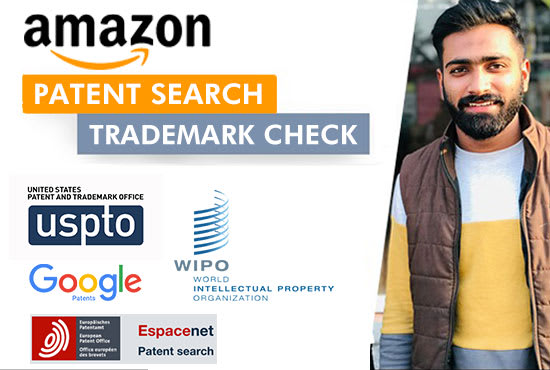 Description
I'm a private label Amazon FBA and an Amazon Virtual Assistant expert.
I offer my professional patent and trademark testing services to anyone expecting legal trading to do business with Amazon in the US, Europe and the UK. Make a big investment, so don't save a few bucks on patent research. When selling your products, you need to make sure that the products are not patented or protected by other competitors. It helps your brand build loyalty and awareness.
OUR SERVICES INCLUDE:
Examination of Design and Utility Patent checking (active, lifelong, abandoned and expired patents).
Browse patents on various websites like USPTO, ESPACENET, Google patents, WIPO, etc. To guarantee good results.
Examination of the patent check and trademark.
Search a brand from multiple sources / websites.
Detailed report (PDF) after the search.
If you have any questions regarding patent and trademark research, just let me know.
Service Rating – 4.9/5.0 (49)
About the Freelancer
Short Description – Amazon Business Expert Product Hunting Listing SEO Ranking PPC

Freelancer Rating – 4.9/5.0 (69)
Ali Tahir, I am a from Pakistan. I am working on Amazon for the last 2 years. We providing you a wide range of professional services related to the E-commerce business. My expertise includes Product Hunting, sourcing, Listing, Launching, and Ranking. I have all the techniques and Premium tools for this. We believe in being highly responsive to our clients and providing them the premium quality of work every time. If you don't like my job I will give you 100% money back. Let's try my skills you will not get disappointed. Thank you