Hire a freelancer to do autocad electrical building design and load calculation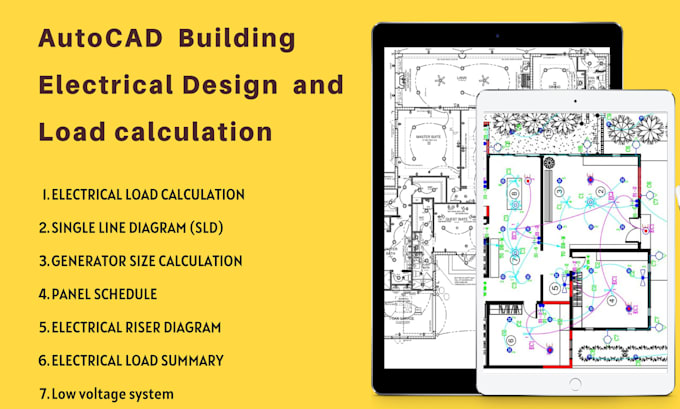 Description
INTRODUCTION
My name is Khalid Farooq
I have passed the MS Electrical Engineering.
I have 9 years of professional experience in AutoCAD Electrical building Design Engineering
expert in the following mention below in AutoCAD Electrical Engineering
Designing
AutoCAD Electrical building design of distribution system
Single line diagram(SLD) and main power layout plan(MPB)
AUTOCAD Electrical Cable circuit layout plan and Location of DBs and MDBs
AutoCAD Electrical Illumination(lighting) Layout design,
Electrical small power socket system layout,
Split A/C System Layout.
Telephone and TV system layout.
Fire alarm,
public address system
CCTV system
UPS system
load assessment
Breaker size load
riser diagram of AutoCAD Electrical Building design Engineering 
Load Calculations
Lux Level Calculations,
Lighting Arrester Calculation.
Short Circuit Calculation,
Calculation of Cables size.
Calculation of Power Factor Correction,
The calculation for Earthing.
Please Discussed the work before placing an order
Why did you hire me 
Money-back guarantee
Demonstration free 
Best Quality
Delivered within time 
Available at any time 
Easily understandable
Please Discussed the work before placing
Service Rating – 4.9/5.0 (3)
About the Freelancer
Short Description – Electrical Design load calculation,estimation,material take off

Freelancer Rating – 4.8/5.0 (15)
I am an Electrical Engineer with 9 years of experience In Building electrical design of Medium voltage and low voltage systems (Design, cost estimations, load calculation, Material Take-off )
(1)Single line Diagram (SLD), Panel Schedule Load calculation (2)light, switch, socket, layout design(3)Generator size Calculation,(4) Short Circuit Calculation;(5)Selection of Main circuit and Branch circuit(6) Design of small power socket(7) Load and fault calculation (8)Low voltage design system (Camera's, Security/Alarm, Intercom System, Cipher Locks, Access Control Readers, etc…)