Hire a freelancer to do background check of a person or business from any country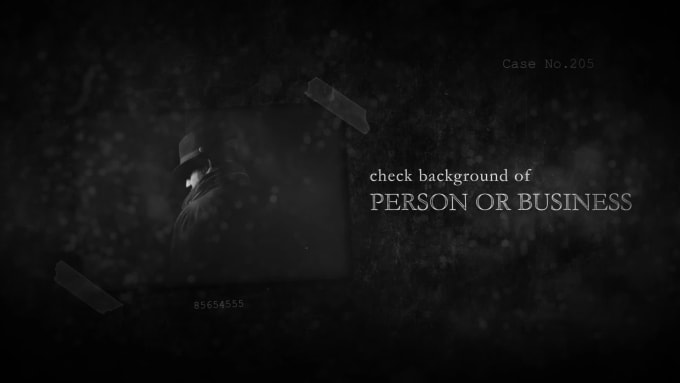 Description
Please contact before ordering so I could make a custom offer if needed.
Have you received an offer from a company or person you don't know and want to be sure of their good intentions to continue working together?
I will check their background for you and find out if they are not who they pretend to be.
The more information about them you have on start – the cheaper, faster and more accurate the investigation will be. Nevertheless, if the only thing you know is their e-mail address, you'd be surprised how much information I can find with a just that input!
The results will be provided in docx or pdf with proofs (links/screenshots).
Depending on the gig package and initial input information, the report can include:
Social media/forum profiles
Domains/websites
Phone numbers
Public records
Cryptocurrency analysis
Employee profiles
Business records
Transport records
Email addresses
…or your custom request.
I will also explain the results and give my recommendations for further actions.
The investigation will be conducted legally, ethically and remain confidential. I do not share private information about bank accounts, I just provide an open-source intelligence service!
Service Rating – 5/5.0 (3)
About the Freelancer
Short Description – Information Intelligence and Security Expert

Freelancer Rating – 4.8/5.0 (42)
More than 5 years of cybersecurity practice and ethical recon. 250+ successful projects.
Expertise:
✅ Private investigations
✅ Cybercrime intelligence
✅ Financial fraud investigation
✅ Photo/video forensics
✅ Cybersecurity consulting
✅ Scam/blackmail prevention
✅ Identity theft investigation
✅ Background check
✅ Social Media Intelligence
✅ DeFi analysis
✅ Threat hunting
✅ Data breach tracking/prevention
✅ Bot/abuse detection
✅ Due diligence
✅ Pre-date check
✅ Website/app pentesting
✅ Privacy compliance
✅ Blockchain forensics
✅ Cryptocurrency transaction analysis
✅ Pre-employment screening