Hire a freelancer to do book formatting for kindle ebook and kdp paperback, lulu, ingramspark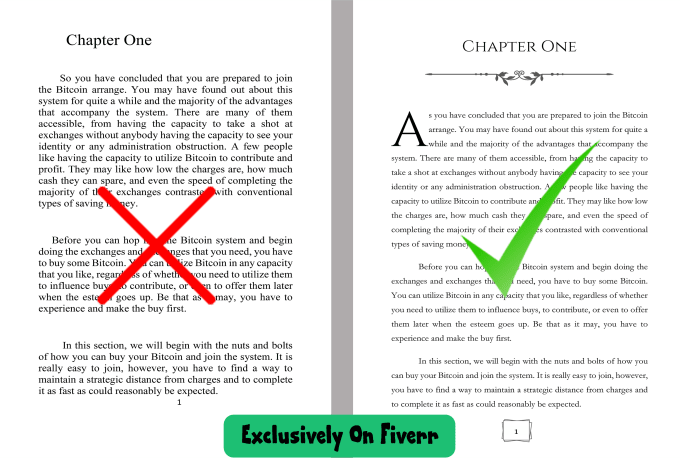 Description
Do you need book formatting for Amazon KDP, Lulu, IngramSpark, etc.? I am able to help with eBook Formatting, Paperback Formatting, Hardcover Formatting for all platforms.
Please read all the details before you place an order.
BASIC: (eBook or Print Book)
✔ 50 pages (12k words)
✔ 5 images
✔ ePub or pdf
✔ Unlimited Revisions
✔ 2 days delivery
STANDARD: (eBook or Print Book)
✔ 100 pages (25k words)
✔ 10 images
✔ ePub or pdf
✔ Unlimited Revisions
✔ 3 days delivery
PREMIUM: (Both eBook & Print Book)
✔ Everything as Standard Package
✔ Both ePub & pdf
✔ Source File
✔ 5 days delivery
Note: For "Unlimited Revisions" no editing changes are acceptable. You can ask for any formatting revisions.
What will you get?
✔ 100% verified eBook or Print Book file.
✔ Ready to upload files.
✔ ePub for eBook and PDF output for file Print Book.
✔ Correct Title, Paragraph, and Text Style.
✔ Professional Design and Layout.
✔ Clickable TOC and active weblinks for eBook.
✔ Tested on various devices or platforms for errors.
If you have a Recipe, Poetry, Comic, Children, or Workbook, please contact me. Custom order needed.
Please contact me, if you have any questions.
Service Rating – 5/5.0 (2,481)
About the Freelancer
Short Description – Professional, Honest and Super Fast Seller

Freelancer Rating – 5/5.0 (3,592)
Take a minute to read about me.
This is Rasel. Working with a great team to help authors with Book formatting, Book Cover, and providing publishing help as well.
Also, doing Minimalist Logo, 3D Logo, Handwritten Logo, WordPress Website Design works.
If you are looking for a very responsive and helpful Professional, don't think twice and leave me a message.
If you are a little worried about work quality, check my portfolios, and read some of my client feedback. I hope you will know well enough.
Feel free to contact me if you have any confusion.