Hire a freelancer to do c cpp python java csharp projects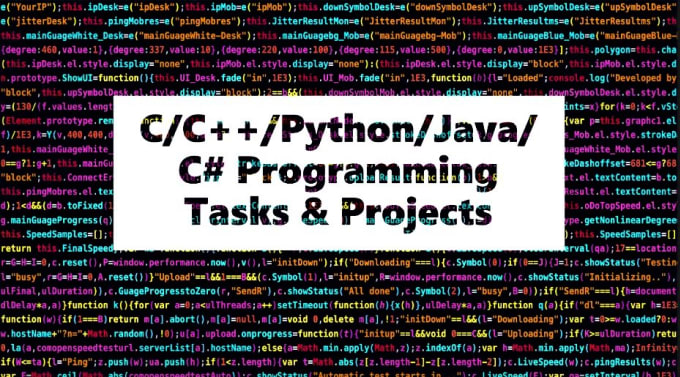 Description
Hello World, it's solutions133__1- a team of IT Professional having years of experience in developing Software Related projects. Over these years, we have got our hands dirty in Programming Concepts and can do any task/project of c cpp python java csharp. We will develop your small projects in really less time with perfection. Moreover, complex programs including concepts of OOP and DSA will be a bit time taking.
So what we are offering?
Solutions to your Projects.
Source Code
Bug fixes
Programming Fundamentals
Pointers
Strings
Arrays
Dynamic Memory
OOP(Object Oriented Programming)
Operator overloading/overriding
Inheritance
Polymorphism
Down casting/up casting
Static binding/Late binding(dynamic binding)
Abstract class/ virtual functions
Templates
Data Structures
Stack
Heap
Tree
Queue
Linked List
Algorithms
Selection sort
Bubble sort
Insertions sort
Merge sort
Heap sort
Quick sort
Programming Languages:
Why Us?
100% Plagiarism Free Code.
Quick Turnaround.
Teamwork Produces Fast Results.
Money Back Guarantee.
Tools we are using:
Visual Studio
Vs Code
Dev C++
Apache
CodeBlocks
Pycharm
Note : MUST CONTACT US BEFORE PLACING THE ORDER
Service Rating – 5/5.0 (72)
About the Freelancer
Short Description – 133 Solutions ll A firm providing number of Solutions

Freelancer Rating – 5/5.0 (77)
Hello World, it's solutions133__1 – a team of IT Professionals by profession, possesses extensive knowledge and have years of experience in developing software related projects. Information Technology makes us expert to help you with any basic or complex project of c/c++, c#, python, sql server, coal, DLD. Over these 10-12 months of quarantine period, we have got our hands dirty in polishing our existing skills and can completely design and develop an upmarket Website using React js, MERN stack. Moreover, GUI using Java and Python are added to the logbook of skills.