Hire a freelancer to do cost estimation material takeoff on bluebeam, planswift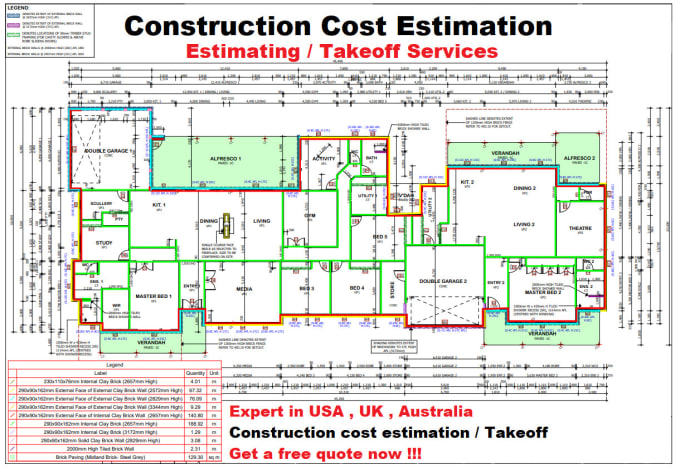 Description
Greetings !!!
I am a senior quantity surveyor, I have extensive experience in the field of estimation. I offer detailed material take-offs and cost estimation for all construction trades of architectural, structural, and MEP.
Samples will be provided according to your needs.
Following is the list of my expertise:
New construction and renovation of residential, commercial, and industrial projects.
Demolition
Earthwork including excavation, grading, and underpinning, etc.
Concrete (reinforcement, formwork, and Earthwork).
Site Concrete and Paving (reinforcement, formwork, and Earthwork).
Landscaping
Erosion and Sediment Control
Site Utilities (Excavation, Backfill, and Shoring Support).
Masonry work (CMU and Bricks)
Structural steel and metal stud framing.
Interior and exterior finishes including drywall.
Thermal includes all types of insulations, roofing, and siding.
Complete Electrical, HVAC, and Plumbing scope.
Project Deliverables:
Detailed Excel Sheet
Take off marking
Accurate cost estimation
Expert in the following Tools:
Bluebeam
Plan Swift
AutoCAD
Kubla cubed
Cubit
MS Office
Please contact me before placing an order
Service Rating – 5/5.0 (13)
About the Freelancer
Short Description – Building estimator on BlueBeam, Planswift software

Freelancer Rating – 5/5.0 (13)
I am a Civil Engineer and performing my job as a senior cost estimator. I have 3 years of global experience ( USA, Canada, Australia) in all construction trades. I do Cost Estimation and Material Takeoff. I am currently working in USA & Australia-based Construction firm and completed many projects of all types (Residential & Commercial). I am a proficient user of Bluebeam, Plan Swift Kubla Cubed, MS Office and Adobe PDF, etc.
I am available 24/7 feel free to contact me for your dream project.