Hire a freelancer to do ebook formatting, ebook format for kindle and epub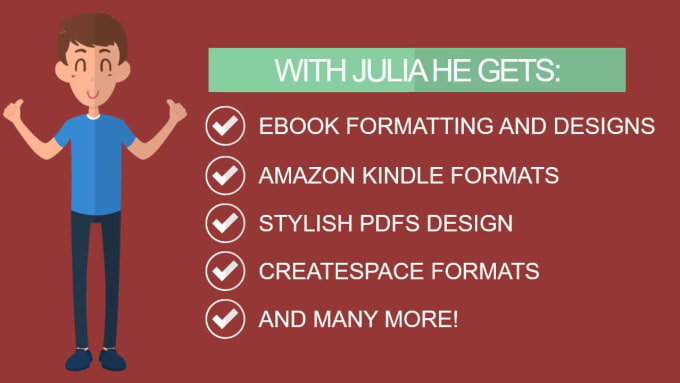 Description
HEY, DON'T BE A STRANGER AND DON'T GET CAUGHT UP IN THE WRONG PACKAGE. IT IS IMPORTANT YOU CONTACT ME BEFORE ORDERING, SO I KNOW YOUR SPECIFICATIONS AND GIVE YOU THE RIGHT PACKAGE FOR YOUR OTHER.
Welcome to my page, and thanks for stopping by! If you are looking for to format your documents for various ebook platforms like Amazon Kindle(MOBI), Andriod, Smashwords, IngramSpark, lulu(EPUB), CreateSpace, and many more. Then you are at the right spot, look no further. 
Accepted file formats: .doc, .docx, .rtf, .odt, 
(For PDF formats, Please contact me first)
We can format your ebook to any ebook format:
Epub
Amazon Kindle
CreateSpace
PDF
MOBI
AZW
Your final document will look 100% professional with a hyper-linked, Clickable Table of Contents.
Professional design and layout of your pages, with the correct title, paragraph and text styling applied.
Header and Footers, Drop Cape, Recto formatting as per requirement
Unlimited Revisions
100% guarantee approved by Amazon.
Money back guarantee
Clickable TOC and active web links
Service Rating – 4.9/5.0 (404)
About the Freelancer
Short Description – Imagination is the beginning of creation

Freelancer Rating – 4.9/5.0 (420)
Welcome to my page, and thanks for checking out my gig! I hope I can relieve you of your project and turn your ideas into reality. You can count on me for your ebook projects. Thanks!