Hire a freelancer to do genealogy research of your ancestors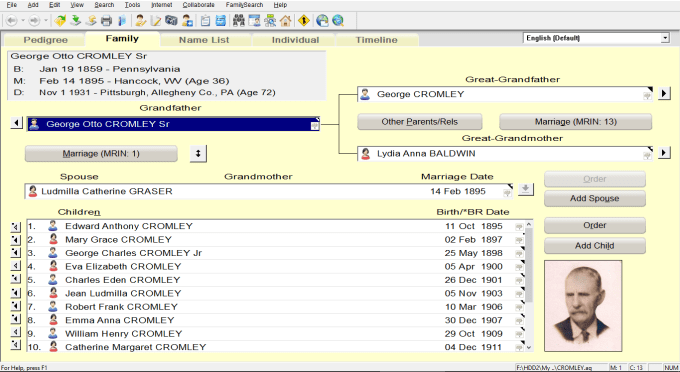 Description
Put my experience behind your research!
There are no guarantees in genealogy, but if it's out there, I will find it! I use multiple genealogy platforms and tools. You'll receive digital copies of all documents found that support places of residence/origin; names of parents, siblings, spouses and/or children, occupation.
I can also help with photo enhancement/restoration if faded, torn in two, or even if lil' Johnny painted a mustache on Aunt Melba's portrait with a red crayon! Up to 3 depending on service. Check FAQ.
Premium includes report, images & chart. Also, family group report to "fill in the blanks" for missing data. Expand your research with a GEDCOM file that can be imported to genealogy applications or web services.
See FAQ. Contact me with any additional questions!
=====
Ponga mi experiencia detrás de su investigación familiar. El mundo y tiempo es el límite.
No hay garantías en genealogía, pero si existe una fuente, yo lo encuentro!  Utilizo múltiples plataformas de genealogía. Recibirá copias digitales de todos los documentos que encuentre.
El servicio premium incluye todo lo descrito.
Ver FAQ. Contácteme con cualquier pregunta adicional!
Service Rating – 5/5.0 (43)
About the Freelancer
Short Description – Genealogy leads to your Family History, Give them the gift of Heritage

Freelancer Rating – 5/5.0 (43)
I'm a computer scientist by trade, retired International Software Sales Manager, who embraced with passion the study of genealogy for over 40 years, written a couple of books on the topic, and now help others make that special connection with their past.
I use all technological resources and multiple genealogy platforms available to bring your ancestry into the limelight.
I am fluent in Spanish and can translate from Spanish to English any document, including those written in pre-1900 cursive.