Hire a freelancer to do java programming using netbeans software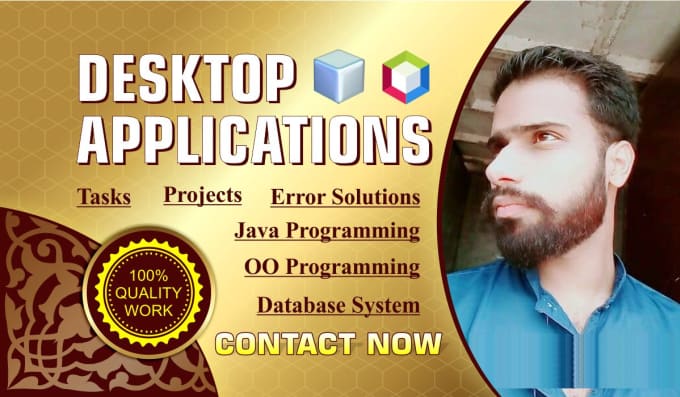 Description
Dear Buyer,
Welcome to my gig. Thanks for visiting my profile! I am a java developer with have a strong command of developing java programming project, java task, java programs, java coding and java swing applications using Java Netbeans IDE and Java Eclipse IDE.
I offer the following services in java programming:
✅Object Oriented Programming (OOP)
✅GUI Development in Java Netbeans
✅Database Integration with Java Project
✅Client-Server Network Programming Java Task
✅Basic Data Structures in Java Programming
✅File Handling in Java Project
✅Debugging Java Coding
✅Multi Threading
✅JavaFX Applications
I have developed these Databases Java Projects:
✅ POS (Point of Sales System) – Java Swing
✅ Library Management System – Java Swing
✅ Inventory Management System – Java Swing
✅ School Management System – Java Swing
✅ HR System – Java Swing
I have worked as a Java and C Sharp Developer with hands on experience like:
✅Desktop and Console Applications
✅Socket Programming using C Sharp
✅Java Swing Applications
Expert in:
✅ Java Programming also doing
✅ C Sharp Programming.
⚠️CONTACT ME BEFORE ORDER TO UNDERSTAND YOUR REQUIREMENTS!
⚠️NO ACADEMIC WORK WILL BE PROVIDED IN THIS GIG
Service Rating – 5/5.0 (129)
About the Freelancer
Short Description – Java : JavaFX : Csharp Applications Developer

Freelancer Rating – 5/5.0 (164)
My name is Muhammad Asif Ali. Completed my graduation in Information Technology from UOS – University Of Sargodha, Pakistan. I am lazy but finish my works within promised deadline. I love to sleep and drawing some paintings on paper. I have a deep command of developing computer applications. Currently, I am working here as a full stack developer. I believe in reality with perfection. Here I'll sever you with my Computer Software skills. My main motto is customers satisfaction.