Hire a freelancer to do java python ai erd sql mysql plsql oracle database design assignment project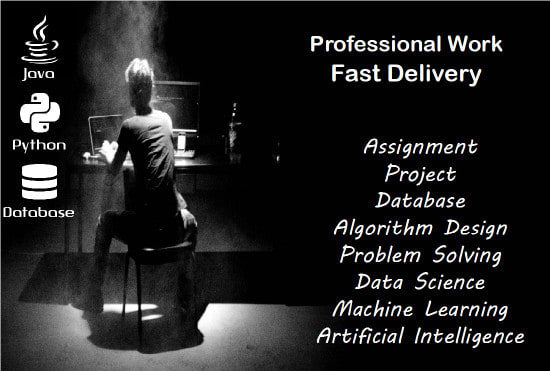 Description
>>> BEFORE PLACING AN ORDER CONTACT ME <<<
I am Software Engineer. I have 6-years of experience in Java and Python programming languages. I can build a custom desktop applications and can also help you in your projects.
I can also design a database for you in SQL, MySQL, Oracle, MS Access, Sql Server, SQLite etc.
Topics that I will cover:
Basic stuff(Loops, Control Structures, data types etc)
Object-Oriented Programming
Exception Handling
Multi-threading
Files & Streams
Socket Programming
Java Networking
Collection Framework
Data Structures
Data Mining
Data sciences project
Artificial Intelligence
Database Topics:
Database Design
ERD
Data Model
Sql queries
Normalization
Crow-Foot Diagram
Sequence Diagram
Data Flow Diagrams
Flow Charts
I can also develop and design web applications.
In short, I can help you with any task related to the Java, Python & Database.
Please feel free to contact me to see a demo of some of my work. Also, don't hesitate to reach out in case of queries/concerns.
Service Rating – 5/5.0 (9)
About the Freelancer
Short Description – Fix the cause, not the symptom

Freelancer Rating – 4.8/5.0 (42)
Hey! I am a professional software graduate having 6+ year of professional experience. I am a core developer of Java, Python and sql and would love to help you in related tasks. Expertise in Database designing, sql queries, java programming, python programming, API building, web development, desktop application, Data Mining, Data Extracting, Data Visualization and much more.
Feel free to discuss your project.
Thanks