Hire a freelancer to do material take off and construction cost estimation for all types of buildings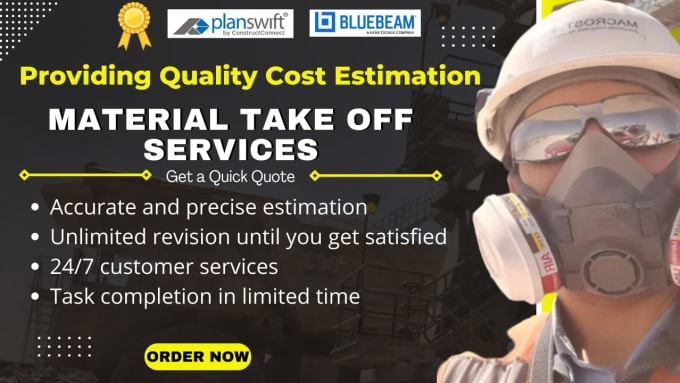 Description
For all types of building projects, including residential and commercial ones, we offer cost estimation and quantities take off services. We place a significant emphasis on work being delivered on schedule and boast a 96 percent accuracy rate for our work.
If there is a protocol to follow whenever you have an estimate, kindly let us know, and I will provide you a service proposal that is tailored to your project.
Services include:
Concrete Masonry Estimation / Takeoff
Metals Wood and Plastics Estimation / Takeoff
Thermal and Moisture Protection Estimation / Takeoff
Doors and Windows Estimation / Takeoff
Finishes Specialties Estimation / Takeoff
Equipment Furnishings Estimation / Takeoff
Special Construction Estimation / Takeoff
Conveying Systems Mechanical (Ex. Plumbing and HVAC) Electrical Estimation / Takeoff
We can tell you that choosing us will be the greatest choice for outsourcing your work.
Eagerly awaiting your response.
Service Rating – 5/5.0 (14)
About the Freelancer
Short Description – Building estimator on BlueBeam, Planswift software and export to excel

Freelancer Rating – 5/5.0 (22)
We're a Group of Qualified Engineers running an estimate based company, with plenty of experience. We provide accurate Building Cost Estimates and Takeoff for all type of Projects & Bids of New Construction, Remodel or Renovation. We can work on Architectural drawing and MEP Drawing. We have dedicated and professional designers so we can create awesome and creative drawings.
We can work on all CSI Divisions. We offer Residential and Commercial Projects Estimates and can cover every trade estimate that you demand. We use Latest Estimating Softwares to maximize the accuracy.