Hire a freelancer to generate a collection of nft variations with metadata and rarities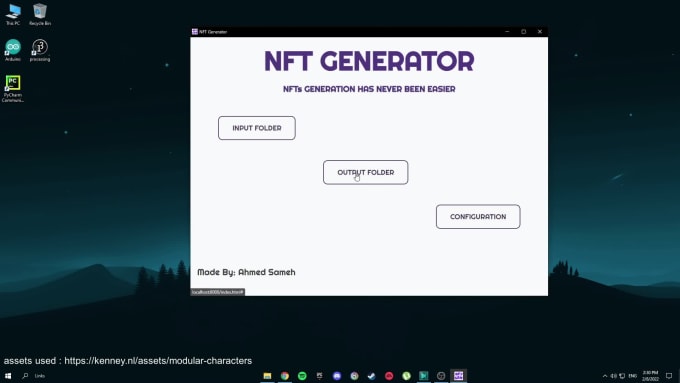 Description
NOTE: I don't draw any art, please message me before placing the order
I don't upload the NFTs
So, you have your nft artwork, and need to generate 1000+ or even 10,000+ NFT Collection?
Of course, you won't draw them all, or combine every layer of artwork in Photoshop 10,000 times!
The creators of popular nft collections use an nft generator like mine. It's essentially a python script I created that takes your artwork files & combines them to make thousands of unique NFT variations (depending on the number of layers) with rarities (the percentage that a certain trait gets chosen) and creates images with metadata files in a matter of minutes.
What do I need from you?
1- I need your layers, each is a separate folder and numbered (1-backgrounds, 2-outfits, etc) in the same order in Photoshop (refer to the gig document for more details, and message me before placing the order).
3- I need each trait to have THE SAME SIZE (e.g 1000×1000), and in PNG format only.
What will you get?
1- You will get the amount you specified of NFTs images, with their metadata files.
You will get the GUI NFT Generator application for premium package orders, so you can generate the amount you like anytime.
Service Rating – 5/5.0 (11)
About the Freelancer
| | |
| --- | --- |
| | Freelancer Rating – 5/5.0 (11) |
Hello,
I'm Ahmed Sameh.
I have been learning programming for about 4 years now, self-taught to be clear. I use: Python as my main programming language.
I created an NFT Generator tool that generates random unique NFTs in a matter of minutes! If you want to generate your NFT collection, just contact me and I'll do my best to satisfy your project's needs.