Hire a freelancer to generate your nft art with rarities and metadata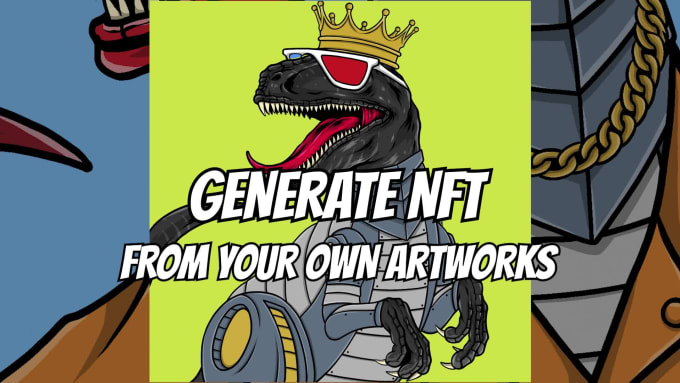 Description
I will generate your unique NFT art collection with traits/attributes (if required) and metadata files (.json files) using your layers within 24 hours.
**PLEASE NOTE THAT I DO NOT DRAW THE ART. I GENERATE COMBINATIONS (1000 up to 10000) FROM YOUR ART LAYERS. YOU HAVE TO PROVIDE ME WITH YOUR LAYERS.
What do I need from you?
Send me your art layers (in PSD file or png format).
If you art has attributes such as a background, body, hats, accessories then send me 4 folders with backgrounds, bodies, hats, and accessories. (The designed artwork layers (background, glasses, hats, eyes etc.) arranged in subfolders).
The rarity of artwork to appear in NFTs
Project name, description and other info for metadata
What will you receive?
Unique images of the quantity you require.
1K, 5K, 10K NFTs within 24 hours
JSON files for every NFTs (known as metadata)
Rarity requirement incorporate (if required)
How long will it take?
It will take less than 24 hours to generate all NFTs and deliver it back to you.
NOTE : Please message me to discuss your projects before we proceed. Pricing is negotiable depending on your requests.
Thanks,
Didik Saputra
Service Rating – 5/5.0 (14)
About the Freelancer
Short Description – Freelance Graphic Designer

Freelancer Rating – 5/5.0 (14)
Hi! I am Didik Saputra and I am from Indonesia.
Give me some of your ideas, and I will use my talents to create something you will love.
I am excited to work together !
Thank You