Hire a freelancer to give you rank 1 challenger level coaching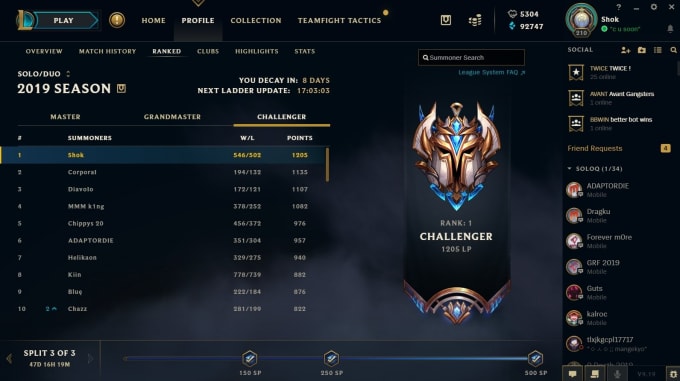 Description
I'm Shok. Multi Rank 1 Challenger Mid Laner, played pro play from 2017-2021. I have a wealth of experience at the top level and can cater for either solo queue or competitive play. I've also climbed many smurfs over the years and know what it takes to climb out of elo hell. If you want evidence of my educational skills, check out my YouTube channel: https://www.youtube.com/channel/UCmZO82KD3WDjx7A8QvRDzNA
I'm able to coach all roles to a Challenger level. (played Mid, ADC and Top in competitive)
Each session will give you a ton of stuff to work on, provide you with notes, benchmarks and objectives to focus on as well as equip you to meet your ranked goals.
Basic Session
This is NOT Live Coaching. You submit a VOD to me, and I will submit a video of me analyzing it back to you. Like my "Play Like Caps" or "Lane Like" videos.
All sessions will include:
Constructive feedback and analysis
Educational commentary on the game itself
A full set of notes on your mistakes and how to fix them
A plan for what you should focus on for maximum improvement
If you have any questions before or after the session, contact me on discord Shok#8163
Service Rating – 5/5.0 (33)
About the Freelancer
| | |
| --- | --- |
| | Freelancer Rating – 5/5.0 (33) |
I'm Shok, I've played LoL professionally for 4 years (2017-2021). I've been Rank 1 three times peaking at 1357LP and I have also been Rank 13 on NA. If you want evidence of my coaching skills check out my YouTube channel!