Hire a freelancer to install configure and fix cyberpanel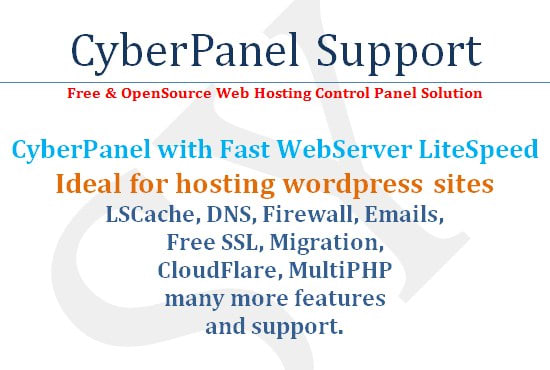 Description
CyberPanel is one of the most popular Web Hosting Control Panel among Open-Source.
I am listing down the services I can provide specifically for CyberPanel Servers.
1. Installation, Configuration, Update, Upgrade and fixing errors in all these steps.
2. NameServer and DNS Records configuration along with SPF,DKIM,DMARC,PTR etc.
3. Setup and fix Emails and Spam Filtering.
4. Configure Multi PHP and modules.
5. Backup Configurations on local or remote destination.
6. Firewall Configurations.
7. Configure Free SSL or custom SSL.
8. Website migration from any platform to CyberPanel.
9. Migrating CyberPanel from 1 server to another server while maintaining same primary domain name.
10. Automation for bulk installation or update of plugins in multiple wordpress sites together.
12. Fixing errors on any service. lsphp, lshttpd, lsws, mysql, mariadb, lscpd, Postfix etc.
13. CloudFlare Configuration for CyberPanel.
You can contact me for any 1 or multiples of above services and also for the ones which are not listed.
Note: Kindly drop me a message with your requirements before placing the order.
Thank You for visiting my Gig.
Service Rating – 5/5.0 (76)
About the Freelancer
Short Description – Linux Servers Expert

Freelancer Rating – 5/5.0 (233)
10 years of IT Support Experience.
I expertise on All kinds of web hosting software. WHM/cPanel, PLESK, DirectAdmin, CWP, VestaCP, aaPanel, CyberPanel. Apart from that I support for WordPress, automation for multiple WP sites on same server, Migration, VPS, Dedicated Servers, Virtualization, VMWare Esxi, ProxMox, VirtualBox, VNC, RDP, FTP, Samba, NFS, Apache, Nginx, LiteSpeed, Mysql, mariadb, Linux Services issues, Installation, Update/Upgrade, Partitioning, RAID & LVM etc.
I am sure you will be satisfied after hiring me and would appreciate my work for sure.