Hire a freelancer to list your book to reach 200,000 booksellers, librarians, reviewers and more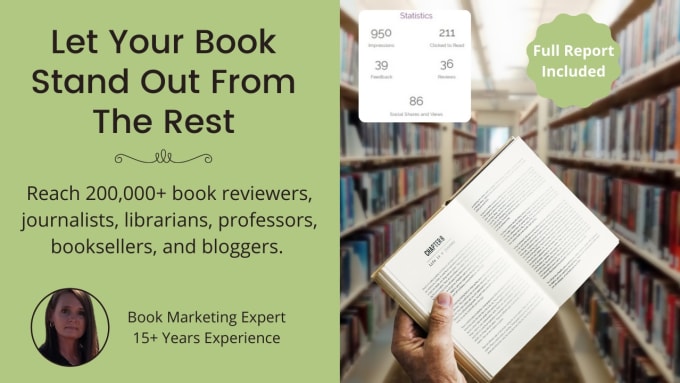 Description
Promote Your Book to over 200,000 Booksellers, librarians, reviewers and more.
Most major publishing houses and smaller publishers use NetGalley for all of their marketing campaigns!
NetGalley offers electronic galleys of books, both before and after their publication date, to 200,000 professional readers such as book reviewers, journalists, librarians, professors, booksellers, and bloggers. 
But Net Galley isn't only for encouraging reviews! Titles hosted on NetGalley will also be available to librarians, book buyers, and media professionals, who use NetGalley to determine their reading lists, purchase orders, book recommendations, and more. Digital galleys can be read on all major reading devices and tablets (including the Kindle and iPad) and are protected files which cannot be shared.
Keep in mind that because there is security on the file itself, NetGalley members cannot share, copy, or distribute your content.
I will need a pdf, mobi, and/or epub copy of your book. I suggest sending all versions that you have available. This will need to be attached when ordering,
I will send you a report at the end of the listing on who requested the book and any feedback received.
Service Rating – 4.9/5.0 (150)
About the Freelancer
Short Description – Book Promotion Expert

Freelancer Rating – 4.9/5.0 (197)
I have been doing book promotion, pr, marketing and social media campaigns for authors, small publishers and small business for over 15 years. I also handle press release distribution and other marketing services as well.