Hire a freelancer to post 25 high quality forum posts on your forum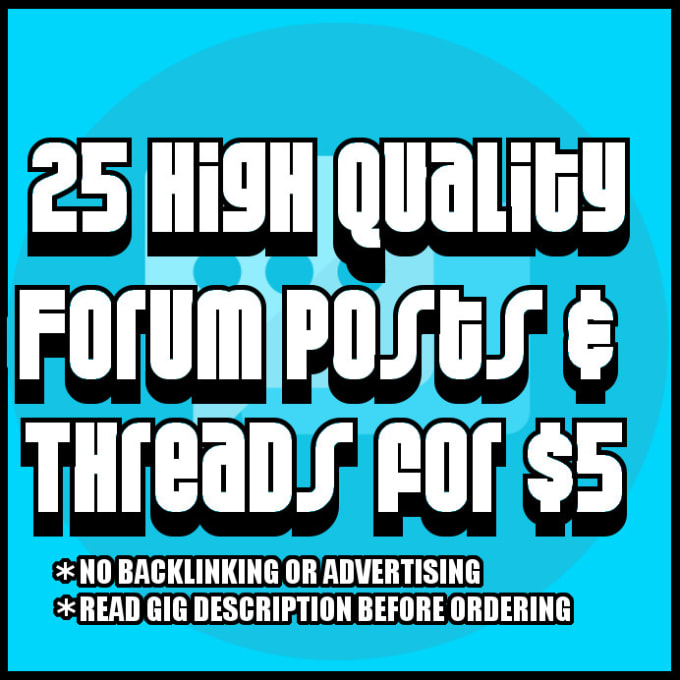 Description
Do not order from me if you do not own a forum. My gig is for FORUM OWNERS ONLY.
If you are in need of high-quality posts on YOUR forum, look no further! I am a co-owner & admin on a highly active forum, so I have the knowledge & experience for posting and running a forum. I will create real activity on your new forum or refresh an older forum that needs to generate new activity.
CONTACT ME BEFORE ORDERING ANY STANDARD OR PREMIUM ORDERS!
→ English posting, 25 word minimum per post, and no copy/pasting.
→ 10 threads max, 15 replies for Basic Gig
→ Posts for YOUR forum – This is NOT an advertisement gig!
→ If I am not familiar with your niche, the gig extra "Topic Research" will need to be purchased.
I DO NOT post on Bitcoin (NO ACCEPTIONS), black hat, white hat, or adult forums
I DO NOT offer any kind of back-linking or advertisement posting
I will only post under ONE account
unless the gig extra is purchased. 
Use the gig extras for specific needs or contact me if you want a custom gig to fit your needs accordingly. 
❤ Please contact me if you are not sure about anything before ordering and I will be more than happy to help you out! 
Service Rating – 5/5.0 (748)
About the Freelancer
Short Description – Forum Owner, Blogger, Writer, Creative Mind

Freelancer Rating – 5/5.0 (1,426)
I enjoy reading, writing and communicating online. I am familiar with several niches such as pet care, health, beauty, gaming, gardening, social media, DIY, nature, and more. I own a forum and several blogs so I am familiar with what looks best and how to get people engaged in conversations.