Hire a freelancer to product research, product adding wordpress shopify website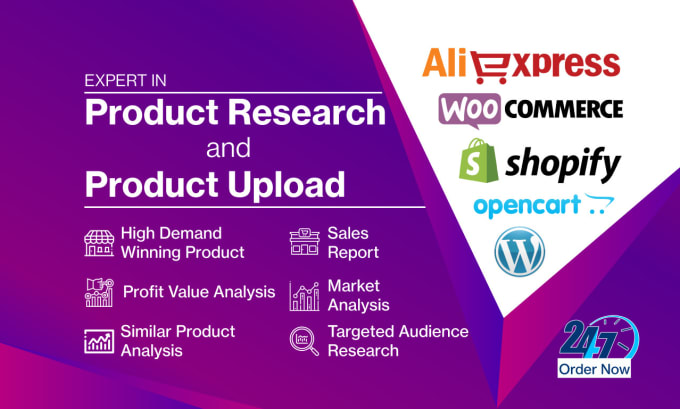 Description
Do you want to winning product research and product adding WordPress or Shopify website with a highly experienced and skilled professional eCommerce website developer? Now you are in the right place.
I am always available to do it with high-quality service. I will do product research and woocommerce product listing on your eCommerce website. Also, I do product adding WordPress Shopify with tag research. I am an eCommerce developer with Shopify Expert. I have more years of experience in the product listing or product adding to eCommerce and Shopify website.
What I service for Product Research:
✅ Price Status
✅ Sales Volume Report
✅ Dropshipping Sells and Profit Report
✅ Suppliers Summary
✅ Shipping Cost
✅ Country Selling Status
✅ Keyword Tag Research
✅ Competitor and Best Selling Similar URL
✅ Targeted Audience
What I service for Product Listing / Product Add :
✅ Title (SEO Base)
✅ Product Description
✅ Variant
✅ Price
✅ Category
✅ Clean images
✅ Tag Research
✅ SKU
I know Product Add / Product Listing these platforms:
✅ WordPress
✅ Shopify
✅ Magento
✅ Wix
What Your benefits:
✅ 24/7 Support
✅ Fast Delivery
✅ Unlimited Revision
PLEASE CONTACT ME BEFORE PLACING AN ORDER.
Service Rating – 5/5.0 (37)
About the Freelancer
Short Description – Data Entry, eCommerce Developer, Product Research and Product Listing

Freelancer Rating – 5/5.0 (43)
I am a Virtual eCommerce Developer for Over Business WordPress, Shopify a Wix Websites. I Have Experience Top Rated Best Selling Products Research eBay, Amazon, AliExpress, and other eCommerce websites. With me, you can do ◉ Product Listing ◉ Product Research ◉ Unique Description Creation ◉ Review Upload ◉ Store Customization ◉ Plugin Setup and other work of dropshipping business. Calmly Manages Multiple Tasks and Company Priorities. Excellent Communication Team-building Skills.