Hire a freelancer to promote your business or music on our 50 radio stations in USA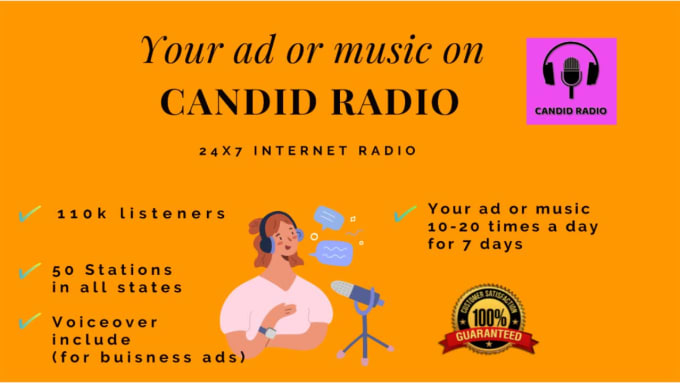 Description
Introduction about our radio stations: I've 50 radio stations in all 50 states in USA with 150k listeners around the globe and all radio stations are listed on top radio directories like Streema, Raddio.net, Radio.net, Streamitter, RadioLine, Online Radio Box, MyTuner & more.
I'll advertise or promote your business, brand service or music on our 24×7 live internet radio. Candid Radio is an online radio playing all genre of music from any culture.
♛ This unique & wonderful gig includes the following benefits: ♛
⇰ Your ad or music aired 200 times a day for 7 days
⇰ Flexibility to choose desired states, We've 50 Stations in all states
⇰ 24×7 Customer Support
Suitable for:
Startups
YouTube Channel
Spotify Music
Amazon Products
Mobile Apps
Online Ads
Website intros
Restaurants & Café
Real Estate Agents & Investors (We Buy Houses)
Credit Repair
Mortgage Brokers
Cleaning Services
Moving Service
Notary Public
Computer/Phone Repair
Car Dealers & Rentals
Dental Clinics
Elderly Care
Preschools
Crowdfunding Campaigns
Gym & Fitness
Roofing Contractors
Dating Service
Property Management
HVAC Contractors
Dropshipping
eBooks & audio books
Internet radio means its global and will get anywhere.
Service Rating – 5/5.0 (25)
About the Freelancer
Short Description – Promote your business on 50 Radio Stations

Freelancer Rating – 5/5.0 (47)
Hey there! Rakshita here and I am working as marketing manager in Candid Radio (series of 50 radios in all states in USA), I do a lot of voice overs on top of producing audio commercials. Let me help you with promoting your small business, product, services or upcoming event on 50 Internet Radio Stations in USA. 20 years of customer service here ready at your fingertips!