Hire a freelancer to provide my original meditation scripts for commercial use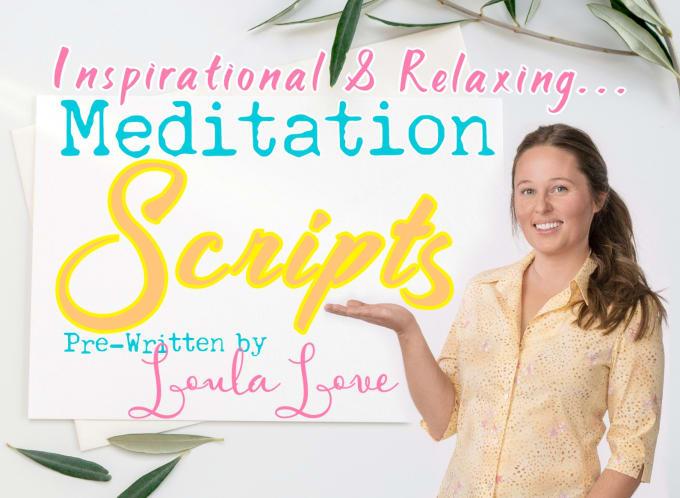 Description
Welcome to my meditation and hypnosis script gig! I wrote each script with care, expressing knowledge that I have found most helpful in my years of researching and learning about the power of conscious relaxation. The words are embedded with the forces of Good and Love.
Choose from over 300 Relaxing and Powerful PRE-WRITTEN scripts written by me, Loula!
Check out my Magnificent Script List to make your choices by visiting this link: https://www.dropbox.com/scl/fi/13u9zhhsy9q1zv23tymhx/01.-Loulas-Magnificent-Script-List-JUN-22.docx?dl=0&rlkey=vohgytqgxwk67ciq4ssht9iwc
I can also write custom scripts , just visit this gig: https://business.fiverr.com/share/qRxdeV
We also create Audio meditations and hypnosis, ASMR, meditation videos, subliminals, brainwaves and much more!
All of my pre-written scripts are written with great passion and love, making for great changes to take place in the lives of those who hear it. The words are aligned with divine order.
Pre-Written sessions are non exclusive, you cannot copyright non exclusive content. No resell on the Fiverr platform please. (License is in the thumbnail)
Service Rating – 5/5.0 (338)
About the Freelancer
Short Description – My mission is to reach billions of people with my voice in my lifetime

Freelancer Rating – 5/5.0 (3,817)
My name is Loula and I am an inspirational guided meditation content creator. It is my mission to help billions of people in my lifetime through my voice and words, helping them to de-hypnotize from fear, pain and suffering.
I create my sessions with calm, flowing simple words so that meditation is made easy for you and your clients.
Through collaboration with my partner Julians Taylor, he provides beautiful meditation music as the backdrop to my sessions, as well as audio, brainwaves, audio editing and much more!
WE OFFER VIDEO, MUSIC, MEDITATIONS, HYPNOSIS, BRAINWAVES, SUBLIMINALS, ASMR