Hire a freelancer to research and write a script for your documentary in english or german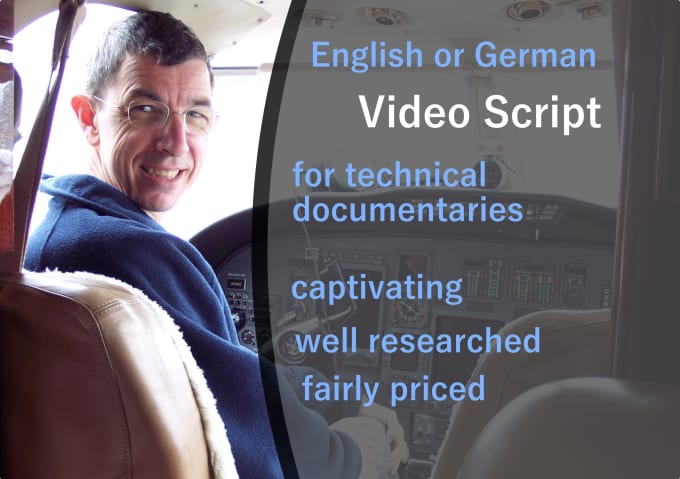 Description
In this gig I write the script for a 10-minute documentary on a technical subject. The script will be in T-chart form, one column for the audio and one for the video content. The audio column will contain the narration and interview / actor text, while the video column will describe the visual content. In case you have already some pre-produced content, I can fit that in.
I write scripts in either English or German.
You want your video to stand out by being captivating and well researched? Then, I think, you have found the fitting author for your script. I specialize in technical content, explain technology to a broad audience and love to delve into new technologies. Being a mathematician by education, I am being told that I have a neck for explaining complex things in an engaging way.
What you provide as basis for my work is an outline, which describes the structure and content of your video. This can be as short as one page with the basic ideas, topics that should be communicated, break-down of segments and list of available video footage. If you don't have an outline yet, I can create one for you as an add-on.
Service Rating – 5/5.0 (1)
About the Freelancer
| | |
| --- | --- |
| | Freelancer Rating – 5/5.0 (8) |
Hello, I live in Germany and my native tongue is German. My specialty in translation are technical and scientific matters. Looking for a top-notch translation of a user's manual or a text with scientific background, then I'm your man. In more than ten years of experience with large corporate accounts and with scientific institutions I have had only totally satisfied customers. I am new to Fiverr, though. So, don't be surprised about not seeing many reviews and be one of my first customers on Fiverr.